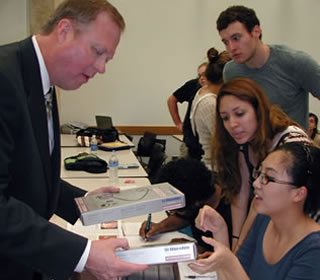 Teva Neuroscience representative Van Bramlett presents
stethoscopes to UTSA students
Teva Neuroscience gives stethoscopes to UTSA
By Amanda Beck
Communications Specialist, College of Sciences
(Oct. 28, 2008)--Students in the Introduction to Clinical Medicine course in the UTSA College of Sciences received stethoscopes donated by Teva Neuroscience, a company that develops products and services for patients with neurological disorders, particularly multiple sclerosis. Thomas Forsthuber, M.D., Ph.D., UTSA professor of immunology, surprised his students with the gifts last week.
---
Today's headlines
Article tools
---
Van Bramlett, professional education research manager from Teva Neuroscience, was on hand to personally give the stethoscopes to the students. Bramlett said the drive from Houston was well worth it to see the expressions on the students' faces. The experience "gave me a great feeling of satisfaction... that my company had done something to give back to the educational, academic community."
This is the second year Teva Neuroscience has given money to purchase stethoscopes for students in the class. Forsthuber previously worked with Teva Neuroscience because of his research on autoimmune diseases such as multiple sclerosis. The disease attacks the central nervous system, impairing control of sensation or movement, and often has crippling effects.
Students in Forsthuber's clinical medicine class study multiple sclerosis and other diseases using examples based on his medical experience. The course is unlike many classes that biology majors take because students must use critical-thinking and problem-solving skills rather than just rote memorization.
Receiving a gift from their professor was not only a surprise, but a motivating experience for many students. For Eric Ruiz, the gift of the stethoscope "fueled the fire" to become a physician. He feels the structure of the class fits the needs of a premedical student. Ruiz is honored that Teva Neuroscience decided to give stethoscopes to students instead of doctors who already practice medicine. It was that decision, and Teva Neuroscience's generosity that inspired Ruiz the most.
Another premedical biology student, Meredith Murrell, was completely shocked by the announcement in class. She said receiving her stethoscope reminded her of opening her stocking at Christmas. She said she has "enjoyed the class so far, although the material has been difficult, and Dr. Forsthuber has made it understandable and relatable to her future in the medical industry."
Scott Dillon, one of the students who received a stethoscope, e-mailed Forsthuber saying, "What you did today was the coolest thing I've ever seen a professor do for a student." Dillon expressed his appreciation for both the gift and his opportunity to participate in the class.
"If my students had half the fun I did, they had a blast," Forsthuber said. He views the whole experience as an example of both the care UTSA professors have for their students and the desire they have to help them succeed."
For many of the students, the stethoscope is more than a piece of medical equipment; it is an inspiration to pursue their careers and dreams.