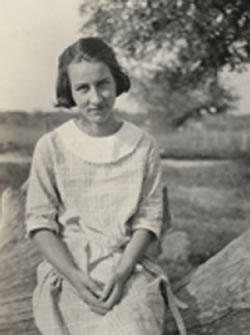 Lota Rae Wilkinson
UTSA receives $1.2M gift for music education
By Kris Rodriguez
Public Affairs Specialist
(Oct. 28, 2008)--The UTSA Department of Music has been awarded a $1.2 million estate gift to establish the Charlotte Louise Dashiell and Lota M. Spell Fund. The endowment will be used to establish and maintain music education programs for children ages three to 12 and to train music teachers devoted to teaching children in this age group.
---
Today's headlines
Article tools
---
The donation from the estate of Houston resident Lota Rae Wilkinson, who died at age 96. The gift was made in memory of her great aunt, Charlotte Louise Dashiell, and her mother, Lota Mae Spell. While Wilkinson's mother performed, studied and taught piano in Austria and Germany, Dashiell raised Wilkinson and was instrumental in developing her interest in music.
In 1910, Spell moved to San Antonio, where her grandfather, Jeremiah Dashiell, had raised his family and directed the music department at Melrose Hall for four years. Later, she met and married Jefferson Spell, an accomplished professor of classic literature at the University of Texas at Austin. While in Austin, Lota Mae Spell directed the Nettie Lee Benson Latin American Collection. The couple went on to accomplished careers as educators in both music and literature at UT Austin.
Among Lota Mae Spell's long list of accomplishments was her knowledge of foreign languages. Her mastery of German, French, Italian, Latin and Spanish helped her draw wide recognition for her research in musical development throughout the western hemisphere, particularly in the Southwest and Mexico.
She served as editor of Texas Music News and associate editor of The Musicale and Southwestern Musician magazine. For 32 years, Spell taught music to children at her studio in Austin and promoted musical education for children with bulletins she prepared for the University Interscholastic League. For her contributions, she was named a fellow by the Texas State Historical Association.
"Ms. Wilkinson understood the excellence of our music department and it's critical position in South Texas with respect to the advancement of the arts," said Daniel Gelo, dean of the UTSA College of Liberal and Fine Arts. "Her phenomenal gift will ensure the continuance of several current programs that serve young music learners, prepare teachers and fund innovative new programs that will keep UTSA in the vanguard of child music education."
With approximately 300 undergraduate and graduate music majors, the UTSA Department of Music has established a reputation as a leader among Texas universities. The department offers a complete curriculum with 11 major ensembles, numerous chamber ensembles and nearly 200 recitals, concerts, master classes and workshops throughout the year.