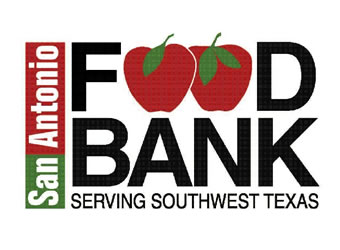 SECC, UTSA volunteers aid local food bank
By Lynn Gosnell
Special Projects Writer
(Nov. 5, 2008)--From its modest beginning in 1980, the San Antonio Food Bank (SAFB) now serves 16 counties surrounding Bexar County. From its location on Old Highway 90 West, the food bank receives and distributes donated food and produce to nearly 400 area social service agencies who in turn make these items available for people in need.
---
Today's headlines
Article tools
---
Churches, neighborhood centers, senior centers, rehabilitation facilities, family crisis shelters, hospice programs, orphanages and low-income daycare facilities are among the organizations that partner with SAFB.
Visitors to the spacious warehouse and volunteer headquarters, which opened in 2007, also will learn that the food bank's methods for fighting hunger go far beyond traditional food distribution. Staff also procure and distribute prepared food from restaurants and caterers through its Second Helpings Program. In recent years, SAFB has helped assist people with food stamps, children's health insurance and WIC applications. And, they operate a busy commercial kitchen.
The kitchen is where meals are created and distributed to 18 after-school Kids Cafés, where youth receive a warm meal, mentoring and tutoring. And, up to 6,000 kids each day are served breakfast, lunch and a snack through the Summer Food Service Program.
The full-service kitchen also helps train and certify people in culinary skills, which make trainees employable in local restaurants. On average, 15,000 meals per month are sent out to various locations in San Antonio.
Volunteers remain essential to the food bank's ability to carry out its mission. The organization's new facility has a workroom and lounge area designed specifically for volunteers who sometimes work up to six-hour shifts on weekends, noted Erica M. Benavides, policy and advocacy manager for the San Antonio Food Bank. The UTSA student organization VOICES (Volunteer Organization Involving Community, Education and Service) regularly sends volunteers to SAFB.
WWe do different projects," said Jennifer Castro, VOICES president. "Sometimes we sort food or hygiene products. We fill the big boxes that are going out to clients."
The San Antonio Food Bank is one of the organizations supported by the State Employee Charitable Campaign [SECC agency code 415077]. Benavides notes that each dollar donation leverages $13 worth of food for local families.
"In the past year, we've seen a 67 percent increase in need, but donations have increased just 3 percent, said Benavides. Spiking transportation costs also have stressed the organization's capacity for 'Fighting Hunger... Feeding Hope.'"
The San Antonio Food Bank Web site is full of statistics about hunger in Texas, making it clear that the need is great.
Here are a few of those statistics:
Texas is most food-insecure state in the nation (16.4 percent) Defined, food insecurity is when you are so limited in resources to buy food that you are running out of food, reducing the quality of food that your family eats, feeding your children unbalanced diets or skipping meals so your children can eat.
The rate of children living in poverty in Bexar County is more than 25 percent; the national rate is 17 percent.
12 percent of Texas seniors are living in poverty.
Each week, approximately 25,000 people receive emergency food assistance from an agency in the San Antonio Food Bank network.
---------------------------------
SECC extended through Friday, Nov. 7
As of Nov. 4, UTSA has 66 percent employee participation in the State Employee Charitable Campaign. If you have not made a donation, it's not too late! The campaign was extended through Friday, Nov. 7.
Donate online to SECC, or turn in your form to your Area Delegate or send it to the Office of External Affairs.
For assistance, contact your Area Delegate or the UTSA Office of External Affairs at (210) 458-5102.