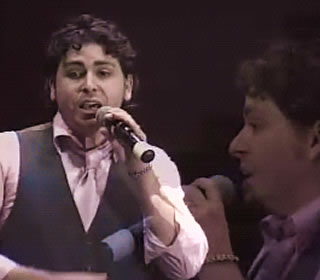 "UTSA's Got Talent" 2008
View video of SECC show 'UTSA's Got Talent'
(Nov. 18, 2008)--The second annual "UTSA's Got Talent" spotlighted employee performances Oct. 24 at the 1604 and Downtown campuses. Employees received tickets to the show by donating to the university's State Employee Charitable Campaign (SECC), which benefits more than 500 nonprofit agencies.
>> Watch a video of "UTSA's Got Talent 2008." (RealPlayer format)
---
Today's headlines
Article tools
---
As of Friday, Nov. 7, UTSA achieved 75.6 percent staff participation in SECC 2008; last year's participation rate was 72 percent. Total UTSA pledges this year exceeded $223,000. SECC benefits some 500 organizations that provide social, health, environmental, arts and education services on a local, state, national and international level.
Performed at the Richard Liu Auditorium on the 1604 Campus and the Buena Vista Theater at the Downtown Campus, "UTSA's Got Talent" was simulcast at the 1604, Downtown and Institute of Texan Cultures campuses.
The show featured acts by UTSA staff members and administrators including performances of the popular Austrian folk dance (the "laendler"), Mexican folkloric dancing ("La Bruja"), the Lindy hop, dancing to rap music and The Supremes, gospel and jazz singing, Chuck Berry-style ukelele music, rock 'n' roll dancing and magicians.