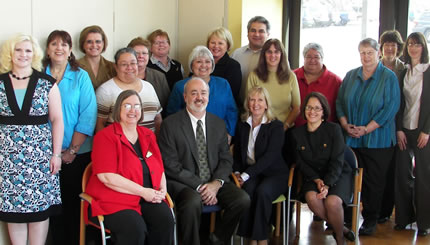 Pictured from left are Banking Services Conversion Team members --
Front row seated: Linda Gall, Gary Lott, Janet Parker and Lenora Chapman
Middle row: Regina Moore, Charlotte Mikulec, Ana Longoria, Yolanda Solis (Chase Bank),
Christine Bodily, Lila Martinelli, Carol Hollingsworth, JoAnn Hatch and Julie Alley
Back row: Kathy Shahan (Chase Bank), Antoinette Davis, Deby Bailey, Susan Heidrich
(Chase Bank) and Javier Martinez
Banking conversion team honored for success
By Diana Valle
Business Policy Analyst and Writer
(Dec. 1, 2008)--The UTSA Office of Financial Affairs honored the Banking Services Conversion Team at a Nov. 12 breakfast. The group of financial affairs, IT and UT Austin staff members worked together to successfully convert UTSA's banking services to JPMorgan Chase. The project was led by Gary Lott, UTSA director of financial services and bursar, and Lenora Chapman, UTSA assistant vice president for financial affairs and controller.
---
Today's headlines
Article tools
---
Janet Parker, associate vice president for financial affairs, kicked off the appreciation breakfast at the Roadrunner Café and was joined by staff and colleagues from the UTSA administrative computing department and JPMorgan Chase.
"The efforts of everyone involved are so greatly appreciated," said Parker. "Your contributions are what resulted in our success."
The shift to JPMorgan Chase provides a number of benefits to UTSA including a 50-percent savings in bank fees as well as the implementation of the Remote Deposit System, a service that allows UTSA to scan checks for same-day deposit processing -- instead of waiting for a courier to delivery to the bank on the next business day.
"I'm seeing over 90 percent of the scanned checks in our available balance the next working day," said Lott. "This allows me to invest the proceeds at least a full day earlier every single day."
The conversion team was responsible for ensuring UTSA's daily business functions were not interrupted during the conversion process, while implementing the new banking system. The process involved creating student refund, vendor and payroll checks, along with ACH and positive-pay services.
"UTSA now prints its own checks instead of using pre-printed check stock, which is another great improvement," said Chapman.
Recognized at the event were:
Christopher Valles, financial services officer
Stacie Garza, financial services officer
Debbie Riley, financial services officer
Linda Gall, financial services and university bursar administrator
Julie Alley, financial services and university bursar administrator
Ana Longoria, director of accounting
Charlotte Mikulec, associate director of accounting
Regina Moore, accountant III
Deby Bailey, director of disbursement and travel services
Antoinette Davis, assistant director of disbursement and travel services
Larry Laubach, computer operations
Ana Fernandez, administrative computing
JoAnn Hatch, administrative computing
Carol Hollingsworth, director of grants and contracts
Lila Martinelli, assistant director of grants and contracts
Javier Martinez, director of payroll
Chris Bodily, accountant III