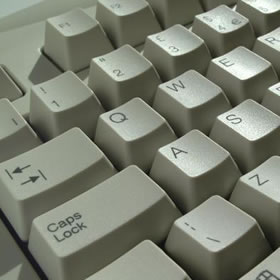 UTSA Research: Growing computer science funding reaps rewards for students, faculty, university
By Amanda Beck
Communications Specialist, College of Sciences
(Dec. 5, 2008)--The UTSA Department of Computer Science is working with bioengineering and other departments to solve real-life problems. Cutting-edge research in health is enhanced with computer science, along with national security.
---
Today's headlines
Article tools
---
Collaboration between departments in the College of Sciences has increased with the addition of new faculty. "We've added biology faculty with a computational inclination and computational faculty with a biology inclination," said Carola Wenk, UTSA associate professor of computer science. "This creates an environment to conduct interdisciplinary, high-end research. We are now able to compete with researchers at the national level."
The department has enjoyed great success in attracting research funding. This year along, computer science faculty have received 15 grants totaling more than $10 million -- an all-time high in external funding for the department.
Nearly half of the grants are funded by the National Science Foundation (NSF). Other funding agencies include the National Institutes of Health, the Army Research Office and the Air Force Research Laboratory.
Funded research includes high performance computing, computer and information security, and wireless networks.
For the last three years, department faculty have won the National Science Foundation (NSF) Faculty Early Career Development (CAREER) award that comes with a $400,000 grant. This is the NSF's most prestigious award for junior faculty.
Assistant Professor Qing Yi won the award this year. Carola Wenk won it in 2007 and Associate Professor Daniel Jimenez was awarded the honor in 2006.
Associate Professor Turgay Korkmaz just received a three-year $590,000 grant from the Department of Defense. That funding will support his research in quality-of-service guaranties and attack-resilience in wireless ad hoc networks.
"The immense success of increased research funding has many additional benefits -- new research projects, new faculty and support for more Ph.D. students," said Wenk. "All department doctoral students are 100-percent financially supported, most by external grants."
Undergraduate and graduate students participate in research with faculty on a regular basis. NSF grants often include support for undergraduate student research, which provides students experience and motivation to continue the research on the graduate and post-graduate levels.
Alumni of the Ph.D. program work as faculty or as independent researchers in academia or industry. Many undergraduates have landed high-paying jobs at top companies such as IBM, Microsoft, Google, Cisco, Dell, Hewlett Packard, AT&T, Rackspace, USAA and Southwest Research Institute.
According to Wenk, some of the department's undergraduates receive starting salaries 20 to 40 percent above the national average.
The department recently added two new concentrations in software engineering and in computer and information security on both the undergraduate and master's levels. New computer classrooms and laboratories provide a state-of-the-art infrastructure for education and research.
With this year's performance and growth, even more students will participate in and benefit from the innovative research conducted and opportunities available in computer science at UTSA.
The next few years hold great potential for both faculty and students to continue to shine in national and international arenas as the Department of Computer Science helps UTSA move closer to premier research status.