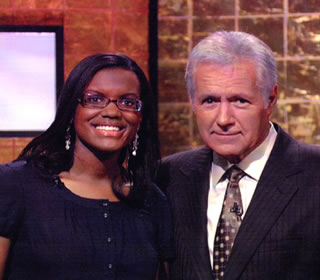 UTSA student Allex Fambles with "Jeopardy" host Alex Trebec
UTSA Spotlight: A: UTSA sophomore who competed twice on 'Jeopardy'
Q: Who is Allex Fambles?
By Cindy Brockwell
Special Projects Writer
(Dec. 11, 2008)--UTSA sophomore Allex Fambles graduated from St. Mary's Hall, a coeducational private school in San Antonio. She earned a National Merit Scholarship and attended Brown University as a college freshman. But, the Ivy League university wasn't quite the experience she had imagined.
---
Today's headlines
Article tools
---
Providence, R.I., gets really cold in the winter. And, it's a long way -- 2,008 miles, to be exact -- from friends and family back home in San Antonio. She missed her younger brother, who is now 11.
Brown University's loss was UTSA's gain as Allex Fambles returned home to continue her education.
Fambles was born in Austin, but moved to San Antonio when she was nine years old. As a child, she watched TV's "Jeopardy" game show with her father. They competed to see who could answer the fastest, and they enjoyed learning together.
When "Jeopardy" held auditions in Texas for a special family game, they signed up. But, the show's producers opted instead for a "Kid's Week," and Fambles was chosen to be a contestant. She was 11 years old, and she won!
Last summer, "Jeopardy" held a "Kid's Week Reunion," and Fambles once again found herself competing with previous kid contestants. While she didn't win the big prize, she had a great time in California where the show is taped.
What led her to UTSA? "I visited other college campuses in San Antonio, but UTSA felt comfortable," she said. "As soon as you step on campus you can see that there is a lot of activity. Posters are everywhere. You know students are involved."
The American studies major noted that her favorite place on campus is the Inclusion and Community Engagement Center (ICEC) in the University Center. "Really interesting things go on there," she said. "You can have discussions about culture, ethnicity, politics or sexual orientation. You can learn about volunteer opportunities."
That's one of the things she likes best about UTSA: the many resources available for students. "Career Services, for instance, provides tips on writing a résumé and interviewing," she noted. "You can learn about available internships."
Fambles also loves the mix of students who come from every state and 90 foreign countries.
She hopes to enter law school at UT Austin after graduation. She's still considering career options and is thinking about becoming a civil rights attorney or a lobbyist.
She voted in her first presidential election in November. Fambles was excited about the campaign and the opportunity to participate in an historic election. With her outgoing personality and penchant for learning, she just might find a career in politics in her future.
------------------------------
Fun Facts: Allex' favorites
On-campus hang-out: ICEC
Music: Everything! Sara Bareilles, The Roots
Posts on: Facebook
Movie: "The Little Rascals"
Hobbies: Playing the guitar (blues, classical, contemporary) and reading