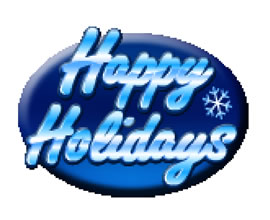 Holiday hours: dining, bookstore, parking
By Jane Wilcox
Director of Business Auxiliary Services
(Dec. 9, 2008)--The UTSA Office of Business Auxiliary Services (BAS) announces the winter holiday schedule for December 16-Jan. 12.
For more information, visit the Business Auxiliary Services or Parking and Transportation Web site or call BAS at (210) 458-4003 or PTS at (210) 458-PARK (7275).
---
Today's headlines
Article tools
---
------------------------------
Holiday food service hours
During the winter holidays, visit the ARAMARK Web site for dining operating hours; limited service will be offered.
Final renovations will be completed in the JPL food court.
Holiday bookstore hours
Visit the UTSA Bookstore Web sites for holiday hours:
Holiday shuttles
Off-campus apartment shuttles
Regular shuttle service through Dec. 16
No off-campus apartment shuttles Dec. 17-Jan. 11
Regular shuttle service resumes Jan. 12
On-campus shuttles
Regular weekday service through Dec. 16
Reduced service weekdays, 7 a.m.-6 p.m., Dec. 17-19, Dec. 29-31, Jan. 5-11
No service to lots 11 and 13, Dec. 17-Jan. 11
No on-campus shuttles Dec. 22-26; Jan. 1- 2
Shopping shuttle
Holiday parking (UTSA parking permits required at all times)
Visitor information booths
Regular hours through Dec. 12
7:30 a.m.-4:30 p.m., (weekdays), Dec. 15-22, Dec. 29-31; Jan. 2-9
Booths closed Dec. 22-26, Jan. 1-2
Regular hours resume Jan. 12
South Parking Garage
Regular hours through Dec. 19
7 a.m.-7 p.m., (weekdays), Dec. 15-22, Dec. 29-31, Jan. 2-9
Closed Dec. 22-26, Jan. 1-2
Regular hours resume Jan. 12
UTSACard Office hours
University Center Room 1.02.20, 1604 Campus
Closed Dec. 22-26, Jan. 1-2
8 a.m.-5 p.m., Dec. 29-31
Regular hours resume Jan. 5
Parking and Transportation Services hours
Physical Plant Room 1.200, 1604 Campus
Closed Dec. 22-26, Jan. 1-2
8 a.m.-5 p.m., Dec. 29-31
Regular hours resume Jan. 5