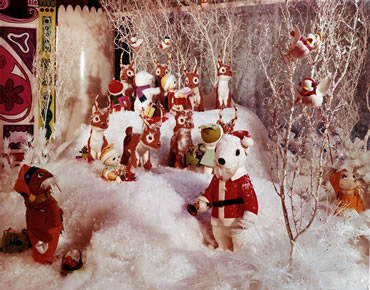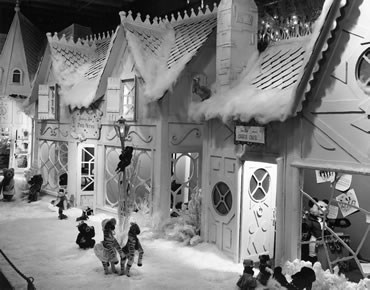 Photo credits: UTSA's Institute of Texan Cultures
Top: 084-0414, Christmas 1941, San Antonio, Texas. Family pictured around
Christmas tree. Courtesy of Grace White.
Second: San Antonio Light Collection, L-5058. Santa descending from atop
Joske's department store building. Circa mid 1950s. San Antonio, Texas.
Courtesy of Hearst Corp.
Third: Z-1286-369; Zintgraff Collection, Scene from Joske's Christmas
Fantasyland, 1966. San Antonio, Texas. Courtesy of John and Dela White.
Bottom: Zintgraff Collection, Z-1283-53974. Joske's Fantasyland, Nov. 15,
1965. San Antonio, Texas. Courtesy of John and Dela White.
>> View ITC dome show video, "Christmas Past" (RealPlayer --
when downloading, respond "yes" if prompted by security window)
Picture the holidays: Buy vintage photos
By James M. Benavides
Public Affairs Specialist
(Dec. 8, 2008)--UTSA's Institute of Texan Cultures will offer a unique glimpse into holidays past through its historic photo archive comprised of some 3.5 million images. Researchers delved through the collection to find vintage photos that capture early family traditions and holiday celebrations in Texas.
---
Today's headlines
Article tools
---
"We see the holidays depicted in home movies and family pictures so often and that nostalgia really comes back this time of year," said Shirley Mock, ITC director of research, programs and collections.
"The holidays are a great time to remember people, events and places that have played significant roles in our lives and in our city's history. Photos are a great way to remember and share these stories and coax these memories out of friends and family members."
A selection of holiday photos have been compiled into a holiday dome show teaser, which will accompany the museum's daily dome show features. Some of the images include the Alamo and downtown San Antonio after the snow storm of 1949, the Joske's department store Fantasyland displays through the 1960s and a 1971 performance of Las Posadas at St. Francis Cabrini parish.
Greeting cards featuring the holiday photos will be available at the ITC Museum Store. Cards printed directly to card stock are $2; prints on photo paper with card stock mounting are $2.25. The inside includes the descriptions and call numbers for the images. All cards are sold individually in protective plastic sleeves and come with envelopes measuring approximately 4.75 by 6.5 inches.
A wider selection of photographs is available for viewing or purchase at the second-floor library, home to the museum's photo archive collection. Prints start at $15 for an 8-by-10-inch image. Digital images and dry-mounts for prints are available. Photo orders are typically filled within three weeks. Rush orders are available for an additional $10 per image.
The ITC Museum Store is open during museum hours, 10 a.m.-5 p.m., Tuesday-Saturday and noon-5 p.m., Sunday. Library hours are 10 a.m.-5 p.m., Monday-Friday. Make an appointment if visiting the library on Monday, since the museum is not open to the public that day. Admission is free to the library and museum store.
Museum admission is free for UTSA staff, faculty and students with UTSACard. Also with UTSACard, UTSA faculty and staff receive a 20-percent discount at the ITC Museum Store; students receive a 10-percent discount. Free parking is available on ITC property with UTSA parking permit.
For an appointment or more information, call (210) 458-2298.