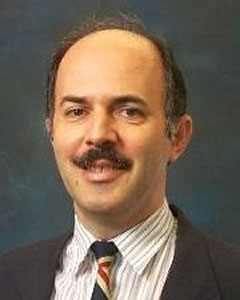 Efstathios Michaelides
UTSA researcher to edit thermodynamics journal
By Christi Fish
Public Affairs Specialist
(Dec. 16, 2008)--When the Journal of Non-Equilibrium Thermodynamics (JNET) embarks on its 36th year of publication, UTSA's Efstathios Michaelides will have a crucial role in shaping the journal's content. Professor and chair of the Department of Mechanical Engineering, Michaelides has been named the journal's new American editor, effective March 2009.
---
Today's headlines
Article tools
---
"The Journal of Non-Equilibrium Thermodynamics plays an important role in disseminating all of the information that scholars in our field should know about irreversible thermodynamics," said Michaelides, who has served on the journal's editorial board since 1998. "When I learned I had been named the journal's new editor, I was delighted. I received a fax from Berlin and replied back immediately that I would be happy to fill the position."
Michaelides will succeed current editor Ranja Narayanan, a University of Florida researcher who announced his retirement earlier this year. Once in his new role, Michaelides will work with the journal's editorial board and external reviewers to solicit, recommend and review articles for publication.
Michaelides' career includes nearly 30 years of research in thermodynamics and related topics at various universities in Texas, Louisiana and Delaware. Additionally, he has published 117 journal articles on mechanical engineering and has presented more than 150 conference proceedings to industry peers. He also has authored one book, "Particles, Bubbles and Drops: Their Motion, Heat and Mass Transfer," published in 2006 by World Scientific Publishers.
Founded by the late Nobel Prize chemist Ilya Prigogine, JNET aims to connect science and engineering by (1) presenting new phenomena in non-equilibrium thermodynamics, (2) discussing analytics or fuzzy models in the field and (3) offering new methods to describe non-equilibrium phenomena. Its audience includes physicists, chemists, mathematicians and computer scientists as well as mechanical, chemical, biochemical and aerospace engineers.