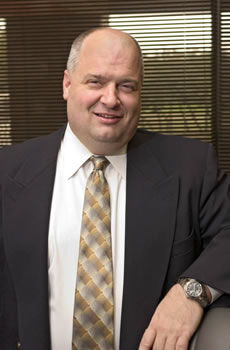 George Norton
Commencement Close-Up: George Norton
By Rebecca Luther
Multimedia Editor, Office of Publications
(Dec. 17, 2008)--Twenty-five years ago, George Norton went on his first big-time job interview. Fresh out of the University of Alabama with his bachelor's degree in communication and a "pitiful little portfolio" that included some of his college projects, as well as an advertisement for a stereo retailer owned by some family friends, Norton sat in the reception area of a large, bustling advertising firm in Atlanta, waiting to be called in for his interview and growing more nervous by the minute.
---
Today's headlines
Article tools
---
Then he got up and walked out.
"It was readily apparent to me I was way out of my league," he says. "I left before my interview."
Though Norton, now UTSA assistant vice president for admissions, would never counsel a student to walk out on a job interview, he has no regrets about the decision. Shortly after that, he took a job as an admissions counselor at Livingston University (now University of West Alabama) and has been working on one college campus or another ever since.
"I loved being in college so much," says Norton, who played drums in Alabama's Million Dollar Band. "I just felt at home being on a college campus; there was a level of comfort there."
This month, Norton is achieving a longtime goal of earning his doctoral degree. For someone who's spent his entire professional career working at colleges and universities, it made sense to use those opportunities to advance his own education. But Norton's path to the doctorate was far from usual.
From 1986 to 1991, he served as assistant director of admissions at Auburn University at Montgomery and while there, earned his master's degree in education administration. The following year, he took a job as director of admissions at Piedmont Technical College in Greenwood, S.C., in part because of the school's proximity to Clemson University.
He enrolled at Clemson as a doctoral student and, over the next few years completed all his necessary coursework for a doctorate. But in 1999, he left his job in South Carolina for an opportunity at UT Arlington -- without having written a dissertation. For the next few years, his goal of getting a doctorate was on hold.
Norton joined the staff at UTSA in 2002 and shortly after decided he really did want to get that doctorate after all, even if it meant starting from scratch. Since doctoral study is so specialized, course credit typically doesn't transfer from one university to another.
"It's highly advantageous to a student to do their course work and research phase at the same place because then they're known by the faculty and the faculty have a chance to shape their training," says Raymond Padilla, a UTSA professor in the Department of Educational Leadership and Policy Studies and Norton's major professor.
But, Padilla and other department faculty recognized all the work Norton had done and, instead of making him start from scratch, came up with an abbreviated program of study that filled the gaps in his previous course work. Instead of the usual 60 hours required to complete the doctor of education degree, Norton completed 24 hours of courses plus the dissertation.
"Because he had that background, we were able to come up with an individualized program of study that was approved by the faculty as well as the Graduate School, and that got him on his way," says Padilla.
Norton enrolled at UTSA in the fall 2004 semester, completed his classes in less that two years, then got to work on his dissertation, "Modeling Student Success at a Hispanic-Serving Institution: A Local Approach," borrowing from his experience working at UTSA for his research. Historically, studies have looked at why students fail in college, he says; he decided to take the opposite approach and examine why students succeed. He successfully defended the dissertation in October and this week will walk the stage at the Convocation Center, with his family -- wife Kathryn and children, Celia and Angel -- as well as his faculty adviser -- cheering him on.
"The reasons this happened were because Dr. Padilla saw some potential in me, and because my wife kept me on-task," Norton says.
Padilla says he did see potential but also challenges in working with a student who had as much career experience as Norton.
"As his adviser, the challenge I saw was to encourage someone like George -- who has terrific experience in administration -- to take off his administrator hat and think like an academic, a researcher. Because in order to write your dissertation, you have to think more like a researcher rather than the way you have to think when you're solving problems every day," says Padilla. "And, he did make the transition finally, very nicely."
Now, Padilla is encouraging his student to take everything he learned during his doctoral study and apply it to his daily work: "Hopefully, he will be a much more powerful practitioner because he also has this advanced training as a researcher."