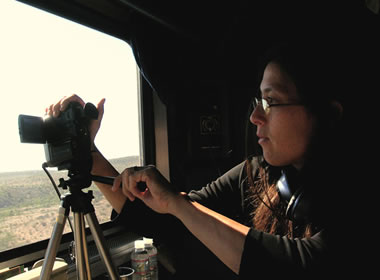 Leslie Raymond
UTSA Spotlight: Assistant Professor Leslie Raymond tries to shred the contemporary video art envelope
By Cindy Brockwell
Special Projects Writer
(Dec. 17, 2008)--Maybe it's in the genes. Leslie Raymond's parents are artists back home in Michigan. A video artist, she is assistant professor of new media in the Department of Art and Art History. She came to UTSA to build a new media program. Introduction to New Media is now a required course for B.F.A. students.
---
Today's headlines
Article tools
---
Raymond grew up in suburban Detroit. She believes that all art students need exposure to the basics -- drawing, painting and sculpture -- so they can discover where their interests lie.
She received her B.F.A. in film and video from Rhode Island School of Design in 1990 and an M.F.A. from the University of Michigan School of Art and Design in 1999.
She was working as an adjunct lecturer at the Ann Arbor campus when she started her search for a full-time position. When she first read about the new media position at UTSA, she felt that the job description was written specifically for her.
Raymond was leery at first about moving to Texas, but she's glad she did. She is enjoying both San Antonio and UTSA. "I'm so impressed with my students," said Raymond. "They're very enthusiastic and work really hard at it."
She teaches video and digital media. "I want my students to stay positive with their work -- to give something back that has value for society."
Raymond recently had a solo show called "LANDSCAPES" at Blue Star Contemporary Art Center. The idea for the exhibit came to her as she was in the woods at her parents' home during a visit to Michigan last summer.
"I get my inspiration from my surroundings... just being in the world. I'll take my video camera out and see what images excite me," she said.
She also performs her art with husband/collaborator Jason Jay Stevens as Potter-Belmar Labs. San Antonio Current editor Elaine Wolff wrote that "the duo has shredded the contemporary video art envelope beyond recognition."
Raymond maintains a busy performance/exhibition schedule. She received a MetLife Creative Connections Meet the Composers grant that funded her West Coast tour last May.
"Art work is research in the world of academia, so I go after grant funding just as the professors in the sciences do," she explained. Instead of looking through a microscope, however, Raymond may produce video shorts that are shown at festivals across the globe.
Both her solo and collaborative films and videos have been presented at festivals in Australia, Switzerland and Argentina.
------------------------------
Fun Facts: Leslie Raymond's favorites
Music: her husband's compositions, hip-hop, electronic, older jazz and classic rock
Movie: David Lynch's "Inland Empire" starring Laura Dern