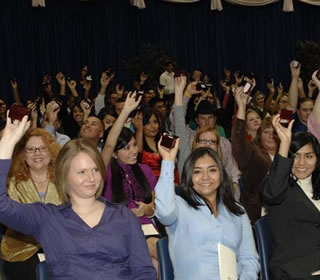 Students and parents at UTSA ring ceremony
(Photos by Mark McClendon)
UTSA ring ceremony is graduation tradition
By Omar Hernanadez
Public Affairs Specialist
(Dec. 18, 2008)--Regardless of major, graduation is the one goal all students have in common. As UTSA continues to grow, so do the traditions of the university. The UTSA ring and the ring presentation ceremony form a symbol that connects students past, present and future.
---
Today's headlines
Article tools
---
"It's not just a piece of paper," said Vanessa Claudette Rodriguez, referring to the bachelor of science degree in biology she will receive in May. "It represents knowledge, and the ring signifies all the hard work it takes to get here because not everyone is able to finish a degree."
Rodriguez was one of nearly 160 UTSA students who received their rings in a Dec. 11 ceremony at the Convocation Center on the 1604 Campus. In addition to alumni, juniors and seniors who have completed 60 credit hours are eligible to participate in the ring ceremony. However, there is always another group on hand that is involved from a distance -- the parents.
"It's exciting to be on the sidelines," said Julie Need, mother of Paul Need, a senior engineering student who will graduate in May. "I've watched him work extremely hard, late hours and going to the library. It's overwhelming but at the same time it's gratification. You feel as a parent that you did something right raising your son."
Family tradition is something that Priscilla Garcia, a senior sociology major, takes very seriously. Although a custom in her family made things difficult at times, in the end, she says her family made her stronger.
"The tradition in my family is that you don't have to work during high school, but once we get to college we have to support ourselves," said Garcia. "I had to get a student job on campus and that wasn't enough, so during the holidays and summer I worked at H-E-B or the bookstore, and it wasn't easy, but I made it."
The UTSA ring program is administered by the UTSA Office of Alumni Programs and facilitated through the UTSA bookstore.
For more information, call (210) 458-4133 or visit the UTSA Alumni Programs Web site and select "Official UTSA Ring."