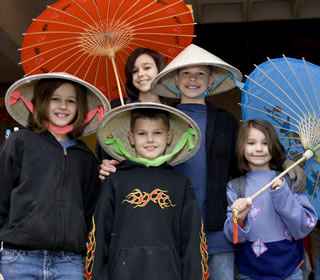 Institute of Texan Cultures' Asian Festival
UTSA's ITC hosts Year of the Ox celebration
By James M. Benavides
Public Affairs Specialist
(Jan. 26, 2009)--Twenty-two years ago, San Antonio's Asian community held what is sometimes described as a family reunion at the San Antonio Museum of Art. Over the years, the event, celebrated near the Chinese or Lunar New Year, outgrew its venue and found a new home at UTSA's Institute of Texan Cultures. Today, the Asian Festival is a celebration open to the entire San Antonio community.
---
Today's headlines
Article tools
---
The 22nd Annual Asian Festival is set for 10 a.m.-5 p.m., Saturday, Jan. 31 at UTSA's Institute of Texan Cultures, 801 South Bowie St. (at Durango Boulevard).
San Antonio has a vibrant and engaged Asian community with strong ties to its cultural roots. Asian culture in Texas is influenced by traditions from the Silk Road to the Pacific Rim. The annual festival showcases Asian cultures through dance, martial arts, foods, games, fashions, dress and customs.
"The Asian Festival has become an amazing event, teeming with cultural expression and goodwill," said festival director Jo Ann Andera. "We are very appreciative of our Asian community partners who take time to share their traditions with us, from their amazing foods to their beautiful performances."
The festival will feature perennial favorites, such as the San Antonio Lion Dance Association, River City Iaido and Kendo Kyokai, Arathi School of Indian Dance and Hula Halau Ohana Elikapeka. The Asian Festival also will feature a number of informative seminars throughout the day, including lectures on Eastern religions and philosophies, sake tasting and art forms such as Ikebana floral arrangement and bonsai.
In the Chinese zodiac, 2009 marks the Year of the Ox. Oxen are known for their patience and determination. They embody high ideals of loyalty and their work ethic is unmatched. These traits might make them seem strong-minded and stubborn, but there are none more dependable.
Tickets are $8 for adults and $4 for children, seniors and military. For more information, visit the Institute of Texan Cultures Web site or call (210) 458-2300.