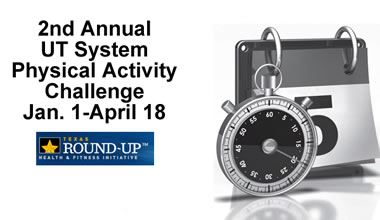 Accept the UT System Physical Activity Challenge
(Jan. 6, 2009)--The University of Texas System is partnering with the Texas Round-Up Health and Fitness Initiative to sponsor the second annual UT System Physical Activity Challenge from Jan. 1 to April 18. The UT System institution with the greatest number of participants will be awarded the coveted Traveling Trophy.
---
Today's headlines
Article tools
---
UTSA employees and family members can accept the challenge by exercising 30 minutes per day, five days per week, for six weeks -- and logging their exercise time at the Living Well Web site.
The online program "GetFitTexas!" keeps a record of progress at the Living Well site. Simply follow the instructions on the screen to complete registration. At the site, select "Yes" at the question, "Are you a Texas state agency employee?" Then, select the institution you represent -- and start logging your activity.
For more information, contact Thomas Murph, UTSA occupational health and worker's compensation coordinator, at (210) 458-5304.