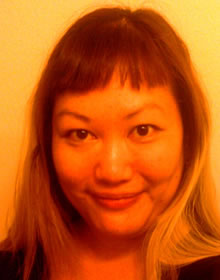 Pepe Lee Chang
Top photo: today as UTSA professor
Bottom photo: previous career in hip-hop duo
Faculty Close-Up: Pepe Lee Chang changes career path from indie hip-hopper to UTSA business ethics professor
By Cindy Brockwell
Special Projects Writer
(Jan. 29, 2009)--Her high school classmates back in Rexburg, Idaho, would remember her as an outcast. But the punk rocker matured into UTSA's Pepe Lee Chang, assistant professor of business ethics in the College of Business Department of Management.
---
Today's headlines
Article tools
---
Chang is a first-generation Asian-American whose parents emigrated from Taiwan. They were entrepreneurs who opened restaurants, worked hard to provide for their children and now are enjoying their retirement.
She earned her bachelor's degree in marketing from the University of Utah. She put her marketing degree to work in numerous jobs including Grammercy Films, a radio station and recording artist management.
But Chang knew she didn't want to give away 8-10 hours of her day to someone else doing work that was meaningless. "You are only young once, and so you have to find what you love to do and find a way to do it," she said. She wanted to matter and she wanted her efforts to matter to her.
Chang had enjoyed a course in philosophy, and after a few more courses, she was hooked and on her life's path.
"I knew I might end up being a waitress with a doctorate in philosophy, but I'd also be a better thinker... and that matters to me," she said. She also noted that a Ph.D. in philosophy can take six to eight years to complete. "But excelling in this kind of subject is addictive. Through lots of encouragement from my professors at Utah, I realized that I had to go all the way or I would always regret it."
Along the way, however, Chang was sidetracked by music. She "accidentally" became half of a Utah hip-hop duo called Furthermore. First under contract to Tooth and Nail Records, then signed by Universal Records, she left grad school for a year and went on tour with numerous indie punk rock bands.
"It was the experience of a lifetime. There were rough spots, and the actual act of touring is miserable. But seeing how your music affects young kids is incredibly fulfilling," Chang said.
Tooth and Nail Records released two CDs, "Fluorescent Jellyfish" in 1999 and "She and I" in 2003. The single "Letter to Myself" was signed by Universal Records. She calls her music "electronic indie hip-hop."
"Our music was never mainstream enough, and no one knew how to market it," she said. "We thought it was mainstream, but it wasn't. What are you going to do?"
After her short-lived music career, Chang returned to grad school. She earned her Ph.D. in philosophy from the University of Utah in 2007.
She went on the management and philosophy job markets, and eventually received job offers from both markets. She was immediately drawn to UTSA, however, because of its energy and enthusiasm for the future. She joined the faculty in fall 2007, and is excited about the direction of the department and its potential for growth.
Chang enjoys stimulating and challenging students' minds in the College of Business. This fall she taught a course in ethics and leadership. "It's important for M.B.A.s to be able to show future employers that they can justify their decisions... that they can make good ethical decisions based upon sound reasoning," she said. "You would be surprised how many people think they know what that means, but they really don't."
Among her areas of specialization are business ethics, health care and medical ethics, moral philosophy and ethics, and the German philosopher Nietzsche.
Chang talked about the current economic crisis and what she called the myth of the free market. She explained that the free market assumes that businesses will act in their own self-interest. The problem is that this implies that we know what is in our best self-interest."
"But usually we don't," she said, "And we resort to numbers because they are easy to calculate. When you factor in things like quality of life, respect for persons, opportunity and justice... it becomes quite difficult to determine what it is that is in our own best interest."
Chang noted that the current economic crisis illustrates how people can make mistakes regarding what they believe is best for them.
Her research is theoretical. Philosophers are in the business of finding truths about the world. According to Chang, many beliefs that people take for granted need further investigation to determine if those beliefs are actually justified. As an example, she cited the movie "The Matrix," where the point was to show that the reality we all take for granted can easily be doubted.
One thing that is real is that Chang's students will have an excellent foundation in ethics that will set the stage for the rest of their lives.
--------------------------------
Fun Facts: Pepe Lee Chang
Favorite movie: "Star Wars" (all of them)
Favorite pastimes outside the classroom: watching TV and movies, her two Shih Tzus, caring for her parents, shopping, poker and meaningful friends
Favorite TV program: "House"