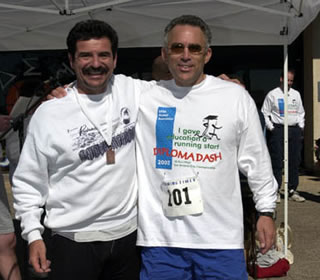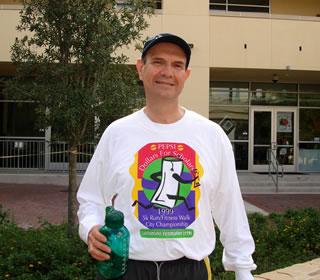 Top photo: Roger Soler, '85, (left) and Robert Rivard, '96, post-race,
Diploma Dash 2002
Bottom photo: Corky Rubio, '76, models the 1999 Pepsi Dollars for
Scholars t-shirt. Rubio hasn't missed a Diploma Dash in 20 years.
UTSA Diploma Dash celebrates 25th anniversary
By Marcia Mattingly
Communications Consultant, Office of Alumni Programs
(Jan. 26, 2009)--On a chilly February morning in 1983, the first UTSA Alumni Association 10K race, co-sponsored with the University Center Program Council, attracted approximately 400 avid runners. When UTSA Homecoming came on the scene in 1985, the race was dubbed the "Hightailer 10K," going with the theme "Hightail it Home!" It continued as a 10K race until it became the "Dollars for Scholars 5K Race" in 1993. Under the name UTSA Alumni Diploma Dash, 2009 marks the 25th anniversary of the event.
---
Today's headlines
Article tools
---
On Feb. 21, more than 1,000 runners are expected to participate in UTSA Alumni Diploma Dash 2009, now professionally chip-timed. The sponsorships and business partners have grown 10-fold, and alumni, their families and UTSA students are active participants and volunteers.
Each year, an extended family of alumni volunteers headed to the Convocation Center on the 1604 Campus determined to raise money for student scholarships and to have fun. This motivation has never changed over the years.
Through the years, many dedicated volunteers stepped up efforts to make the fund raising event one of the premiere races in South Texas. Roger Soler, '85, was instrumental in developing the race into what it is today, working tirelessly with volunteers to make sure the race attracts serious runners and maintains its reputation as a premier running event. Additionally, Soler was the men's open champion in 1985, 1986 and 1990.
Pepsi was the first presenting sponsor in 1995 and continued until 2000. ING Financial Services was presenting sponsor in 2004. Argonaut Group served as presenting sponsor in 2005 and 2006, followed by Capital Group Companies in 2007 and 2008.
It was renamed the San Antonio City Championship in 1997 and began attracting a large group of faithful participants, corporate sponsors, UTSA students and faculty, wellness providers and retail sports and running stores to help make each race more successful than the last. The race officially was re-branded and trademarked "Diploma Dash" in 2000.
J.R. "Corky" Rubio, M.B.A., '76, has run in the 5K for 20 years. He was a founding member and first vice president of the UTSA Alumni Association and was named the Alumnus of the Year 1984.
"Diploma Dash is a signature event for me, and running each year takes me back to those crisp, cool days when we students were first admitted to the 1604 Campus," said Rubio. "As time went on, I just enjoyed the camaraderie of the morning, especially seeing the crew of volunteers at work. Then the race became a big event, with several San Antonio mayors either running or shooting the starting gun. After all those years, I have quite a t-shirt collection."
Another long-time runner is San Antonio Express-News editor Robert Rivard, '96, Alumnus of the Year 2000. "I ran my fastest 10K ever in Diploma Dash 1992 before the event was shortened to a 5K," he said. "I was running the San Antonio Marathon the same year and was really ready. The 25th anniversary has me ready to strap on running shoes and train."
The race also has attracted many elite runners through the years, and UTSA alumna and 2008 Olympic marathon runner Liza Hunter-Galvan, '93, '05, clocked first in women's overall in 1991, 1993, 1994, 1995,1996, 2000, 2001, 2002, 2005 and 2006.
A native New Zealander, Hunter-Galvan earned a track and field scholarship to UTSA and was coached by Shawn Flanagan. After graduating, she settled in San Antonio, married, raised a family and became a teacher. "I love the Diploma Dash," she said. "I feel so indebted to UTSA -- it's just a very small thing to do to support UTSA. I'm going to do whatever I can to help. My experiences at UTSA changed my life."
This year, medals and prizes will be awarded in open, masters and 13 age categories, and the Corporate Team Challenge, UTSA Student Team Challenge and ROTC Team Challenge. Prizes will be awarded for record-breaking times, male and female. Clydesdale and Filly divisions also are popular categories. New this year is a wheelchair division with first-, second- and third-place medals for men and women.
Race-day registration and stretching begin at 8 a.m., Saturday, Feb. 21 with the starting gun firing at 9 a.m. The racecourse offers a certified 5K flat and fast course for accomplished runners and a scenic 1.5-mile course for those preferring an easier pace.
Registration fees are $25 for individuals registering online by midnight, Wednesday, Feb. 18, and $35 on race day. UTSA students can register for $10, and children 14 and under are $10 in the special H-E-B Kids program. Each registrant will receive a long-sleeved event t-shirt and "goodie" bag.
Diploma Dash 2009 co-chairs are Doug Campbell and Susan Campbell, '89. Committee members are April Ancira, '03, Gerardo Escamilla, '98, Glenn Errhalt, '88, Steven Langley, '05, Barbara Nurick, Debbie Prost, '79, Cathy Starnes, Ph.D., '92, Jennifer Villarreal, '06, and Danny Zimmermann, '01.
For more information, visit the
Diploma Dash 2009
Web site or call (210) 458-4133.