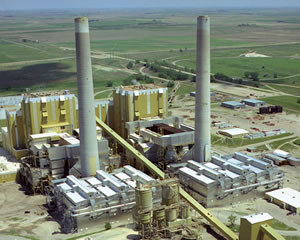 Fed funds aid UTSA energy combustion study
By Christi Fish
Public Affairs Specialist
(Jan. 27, 2009)--The University of Texas at San Antonio has received another boost toward top-tier research status. The UTSA College of Engineering was awarded a $199,884, 24-month grant by the U.S. Department of Energy to study energy combustion and new ways to control pollutants.
---
Today's headlines
Article tools
---
"This is one of the first grants we have received at UTSA to study clean combustion, gasification and energy efficiency," said Efstathios Michaelides, UTSA professor and chair of mechanical engineering and the study's principal investigator. "Our research will directly affect the U.S. Department of Energy, but we suspect utilities will also be interested in our findings because they will have implications for the design of future energy plants."
Currently, the U.S. Department of Energy and their contractors use a computer code called Multiphase Flow with Interphase eXchanges (MFIX) to describe the behavior of particles during combustion. MFIX calculations are general and all-inclusive, and they provide information about pressures, temperatures and reaction rates in boilers, gasifiers and Fluidized Bed Reactors (FBR), which represent the next generation of coal utilization equipment.
Using a Direct Numerical Simulation (DNS) code developed previously by Michaelides and his students, researchers will simulate the flow and interactions of particles with gases in reactors and gasifiers. Their findings will allow them to deliver "boundary conditions" to the Department of Energy, or variables that will improve the ease of computations and accuracy of the MFIX code. The improved code will lead to the development of more efficient reactors, which are designed to trap pollutants and other products of combustion.
Energy has been a significant focus for UTSA in the past year. In April 2008, the university began foundational work to form the Institute for Conventional, Alternative and Renewable Energy (ICARE), a consortium of industry, government and academic leaders to explore new directions, policies and best practices for the energy industry. The new institute is expected to debut in late spring.