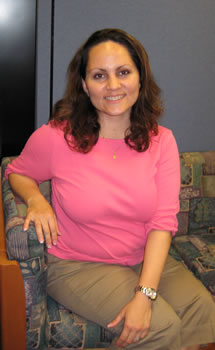 Cristina Forbes
UTSA Spotlight: Cristina Forbes receives nonprofit management leadership scholarship
By James M. Benavides
Public Affairs Specialist
(Jan. 29, 2009)--American Humanics, UTSA's nonprofit management certification program, awarded a Next Generation Leadership scholarship for the 2008-2009 academic year to Cristina Forbes, a UTSA senior business major.
---
Today's headlines
Article tools
---
The NextGen award is a national competitive scholarship underwritten by the W.K. Kellogg Foundation to defray tuition and other college expenses for students studying nonprofit management. Forbes will receive $4,500.
"Scholarships like NextGen enable talented students to enter the underserved and understaffed nonprofit sector," said Molly Cox, UTSA senior program coordinator for American Humanics.
Forbes has chosen to participate in an internship at Mission Road Ministries, a nonprofit organization serving more than 600 children and adults with mental retardation and other developmental disabilities. The organization assists clients through residential and day services and vocational programs to help them gain independence, productivity and inclusion in the community.
"We are not just individuals going about our daily lives, but are part of something bigger," said Forbes. "Making a positive impact in other's lives motivates me daily."
American Humanics is a national alliance of colleges, universities and nonprofits dedicated to preparing the next generation of nonprofit sector leaders.
"Young professionals are often dissuaded by the prospects of unpaid internships or low-pay positions upon entering the nonprofit sector," said Cox. "That's a misconception. Many nonprofit organizations realize that student interns must forgo hours they could spend at a regular job. They are offering paid internships or stipend positions. The nonprofit sector is definitely a viable career path, even when staring down student loan debt."
Cox cites Bureau of Labor Statistics materials that show full-time nonprofit professionals often earning higher hourly wages than their corporate sector counterparts. Additionally, the increased number of baby boomers retiring is creating an institutional leadership gap. According to Cox, this gap creates demand for competent, certified nonprofit professionals who can fill those roles.
"Nonprofits must continue to staff their agencies and provide services regardless of economic conditions," she said. "If anything, the current economy is creating demand for nonprofit services."
UTSA's American Humanics nonprofit management minor is open to all majors. It requires three business courses (accounting, management and marketing), two nonprofit courses (nonprofit management and fundraising), a 300-hour internship with a nonprofit organization and attending at least one of the annual American Humanics Management Institute (AHMI) educational symposiums. UTSA is one of only three universities in Texas offering the American Humanics certification for undergraduates.
American Humanics is accepting applications for the 2009-2010 academic year. For information, contact Molly Cox at (210) 458-2691.