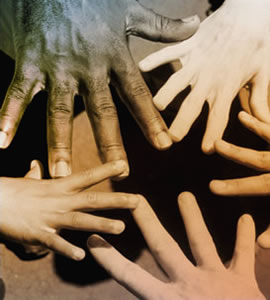 UTSA opens health disparities initiative Jan. 27
By Christi Fish
Public Affairs Specialist
(Jan. 26, 2009)--To help address San Antonio's unique health-related challenges, the UTSA Office of the Vice President for Research recently established the Health Disparities Task Force. The initiative will begin with a Jan. 27 seminar featuring Texas State Demographer Karl Eschbach.
---
Today's headlines
Article tools
---
The discussion, "Disparities and Mortality in the State of Texas," is 4-5 p.m., Tuesday, Jan. 27 in Biotechnology, Sciences and Engineering Building Room 2.102, UTSA 1604 Campus.
San Antonio's culturally and ethnically diverse population is coping with a diabetes epidemic, hypertension and obesity -- problems much more pronounced in the Alamo City than in the rest of the nation.
"One need only look at San Antonio and the larger state of Texas to obtain a health and wellness model for the rest of the country," said Thomas Forsthuber, Jesse H. and Mary Gibbs Jones Endowed Chair in Biotechnology. "In 40 to 50 years, if not sooner, other major cities will experience the health challenges we are tackling now. These disparities offer UTSA a tremendous opportunity to spearhead change."
The Health Disparities Task Force already has attracted interest from nearly 50 faculty members across several colleges. The task force is charged to:
Assess the interest, expertise and opportunities for UTSA to commit to a multidisciplinary effort in health disparity research and education
Develop partnerships with external groups
Establish two to five year goals including essential resources
To attend the Jan. 27 meeting, e-mail Carmen Romo. To learn more about UTSA's health disparities initiative, contact Thomas Forsthuber, College of Sciences, at (210) 458-5760.