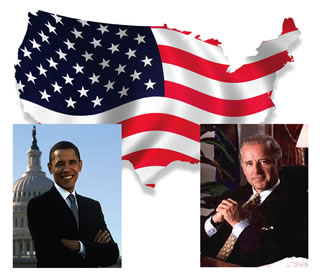 Barack Obama and Joseph Biden
>> View the
C-SPAN2 broadcast of inauguration events live online
beginning at 8 a.m., Tuesday, Jan. 20 and continuing through the day.
View inauguration across UTSA campuses Jan. 20
By Omar Hernandez
Public Affairs Specialist
(Jan. 16, 2009)--Millions will watch as Barack Obama takes the oath to become the first African-American U.S. president, just one day after Martin Luther King Jr. Day. UTSA students, faculty and staff members can be among those viewers at a number of sites around the campuses beginning at 9 a.m., Tuesday, Jan. 20 and continuing throughout the day. The swearing-in is scheduled for 10:30 a.m.
---
Today's headlines
Article tools
---
The UTSA Inclusion and Community Engagement Center will host two inauguration viewing sites:
University Center Denman Room (2.01.28), 1604 Campus (Free lunch will be available at 11 a.m. on a first-come, first-served basis until the supply is exhausted.)
Student Activities Center, Durango Building first floor, Downtown Campus
The inauguration ceremonies and related events (from C-SPAN2) will air on UTSA information flat-screens and TV monitors with closed captioning, courtesy of the UTSA Office of Distance Learning and Academic Technology (DLAT). Additionally, DLAT will provide the C-SPAN2 feed online.
Note: Because high traffic is expected on the Internet, the stream could be interrupted or slowed occasionally. Windows Media Player is required for viewing. UTSA PCs already have the software installed. For viewing on a Mac, download the software at the Microsoft Web site.
For more information about the viewing sites, contact the Inclusion and Community Engagement Center at (210) 458-4770.