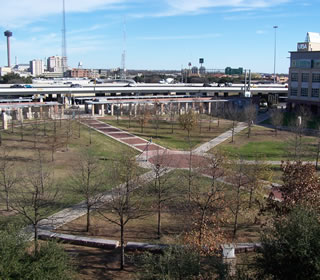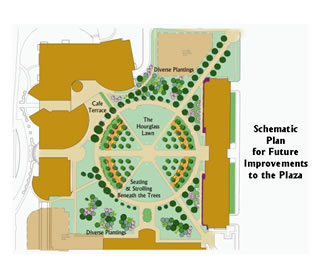 Bill Miller Plaza, UTSA Downtown Campus
UTSA begins Miller Plaza improvement project
By James M. Benavides
Public Affairs Specialist
(Jan. 9, 2009)--Renovation began Thursday, Jan. 8 on portions of Bill Miller Plaza at the UTSA Downtown Campus. To be completed by June, the improvement project will include removing diseased trees, transplanting trees, refurbishing the lawns, installing an irrigation system and improving lighting.
---
Today's headlines
Article tools
---
Construction barricades and warning signs will be installed around the circular walkway in the plaza to ensure pedestrian safety during construction.
Designated a hard-hat area, the "spokes" and central lawns inside the circular walkway will be closed to pedestrians during the project. The circular walkway and access from parking areas will remain open to pedestrian traffic.
For more information, contact UTSA Facilities Work Control at (210) 458-4262.