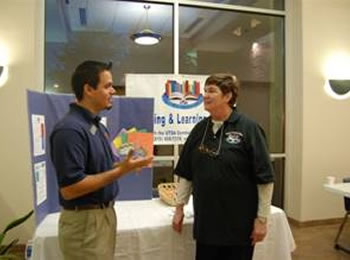 Director Barbara Millis (right) discusses TLC programs with a visitor at the
Graduate School Fair, Jan. 7.
UTSA's TLC looks back on productive fall semester
(Jan. 13, 2009)--The newly reorganized UTSA Teaching and Learning Center (TLC) is based on providing UTSA faculty and teaching assistants with resources and expertise to excel. Last fall was the ramping-up period for the center, and TLC Director Barbara Millis proceeded at full speed.
---
Today's headlines
Article tools
---
"Normally, start-ups are gradual, but I saw no reason to delay," said Millis. "Based on my experience in the field of faculty development, plus TLC's gift of nine enthusiastic Master Teaching Fellows, we had numerous resources to support our new initiatives. We put the basics in place last fall with the idea of launching this spring more ambitious initiatives involving partnering with other departments and units."
Utilizing UTSA and outside experts, TLC programs include teaching assistant training, faculty and TA workshops, the quick course diagnosis program to assess class effectiveness, service learning grants for faculty members and the large-class initiative that redesigns classes to capitalize on classroom technology. The start-up included a new Web site with workshop registration capabilities.
Two smaller projects also were instituted. With "Thank My Prof," bookmarks were distributed around campus encouraging students to visit the TLC Web site to complete a brief form to thank teachers who made a class particularly interesting and worthwhile. "Tuesday Teaching Tips" were e-mailed to faculty members with practical ideas for classes ranging from grading strategies to active-learning approaches; the tips are archived at the TLC Web site.
Two days of extensive TA training focus on preparing new and experienced TAs to excel in the classroom. Sessions last fall were organized with track 1 for the humanities, social sciences and professional disciplines (led by Millis) and track 2 for the STEM disciplines of sciences, technology, engineering and mathematics. Track 2 featured Keith Whittington, a nationally known computer science professor from Rochester Institute of Technology.
Topics included active learning, grading, lesson planning and teaching labs, including presentations on library services, WebCT, "Cultural Considerations" and the multimedia classroom. There were panel discussions and breakout groups with oral and written feedback.
Faculty and TA workshops last semester included topics such as Second Life, critical thinking, service learning, conducting effective classroom observations, preparing a professional portfolio and using groups wisely and well.
Focus groups and quick course diagnoses offer students' perspectives into courses and programs utilizing the trained Master Teaching Fellows. Ten focus groups with student supplemental instruction leaders provided insight into course effectiveness. The Department of Biology took advantage of the 15-minute "Quick Course Diagnosis" (QCD) option, which analyzed the newly revised core biology sections.
Following competitive review, grants ranging from $750 to 5,000 were awarded to nine faculty members and TAs in five categories: Teaching Enhancement (for traditional classroom learning and distance learning), Service Learning, Scholarship of Teaching and Learning (an international movement sponsored in the U.S. by the Carnegie Foundation), Writing Across the Curriculum (co-sponsored by the UTSA Writing Program, faculty commit to supplement courses with special writing assignments) and the Large Class Initiative. Grant proposals will be posted on the TLC Web site, and completed projects can be viewed at a poster session scheduled for Sept. 21, 2009.
Grant recipients were:
Shereen Bhalla, graduate student, bicultural-bilingual studies
Steven Boyd, faculty, history
Joellen Coryell, faculty, interdisciplinary learning and teaching
Kirsten Gardner, faculty, history (two awards)
Jill Graper Hernandez, faculty, philosophy
Sue Hum, faculty, English
Kenneth Jones, graduate student, information systems, College of Business
Carolyn Orange, counseling
Marilyn Wooten, graduate student, chemistry
"It was a fantastic fall semester, and the upcoming ones will be even better," Millis concluded. "UTSA is a great place to be."