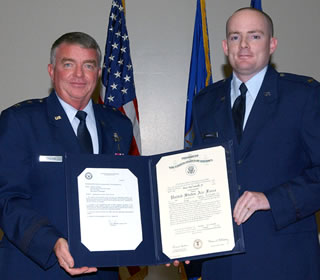 Top photo: Maj. Gen. Tom Travis (left) and newly commissioned
Lt. Brian Connolly
Bottom photo: New Lt. Dimitrius Ward, Travis and Col. Lisa Firmin
Officer lauds Air Force for leadership, service opps
By Omar Hernandez
Public Affairs Specialist
(Jan. 9, 2009)--Maj. Gen. Tom Travis was the guest speaker for the Air Force ROTC commissioning ceremony Saturday, Dec. 20 in the University Center Retama Auditorium on the UTSA 1604 Campus. In his talk, Travis spoke of the great opportunity provided by the Air Force to become a leader who puts service before self.
---
Today's headlines
Article tools
---
Travis entered the Air Force in 1976 as a distinguished graduate of the ROTC program at Virginia Polytechnic Institute and State University. He was awarded his pilot wings in 1978 and served as an F-4 pilot and aircraft commander. The general completed his medical degree from the Uniformed Services University of the Health Sciences School of Medicine, where he was the top Air Force graduate; in 1987 he became a flight surgeon.
For more than three years, Travis was chief of medical operations in the Human Systems Program Office at Brooks Air Force Base in San Antonio. Currently, he is commander of the 59th Medical Wing at Lackland Air Force Base.
"I've had many times in my career where I knew there was something I wanted to do, but the Air Force asked me to do something else." said Travis. "Frankly, the Air Force was always right and it worked out extremely well because I wouldn't be a major general if I had done it my way."
Speaking at the commissioning ceremony by invitation of UTSA President Ricardo Romo, Travis is a big advocate of the university and the ROTC program.
"UTSA has a great ROTC program with folks who are determined to serve their country and get an education," said Travis. "Plus, they're willing to defend our country in the time of war -- it's one of the best things about America."
For more information, contact Col. Lisa Firmin, commander of UTSA's Air Force ROTC Detachment 842, at (210) 458-5636.