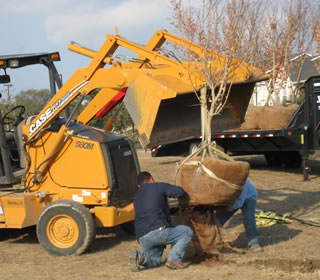 Trees delivered and planted at UTSA
City program provides free trees to UTSA
By Tim Brownlee
Assistant Director of Public Affairs
(Jan. 9, 2009)--UTSA facilities planning analyst David Nuckels is responsible for bringing more green... and orange... to UTSA. Last June, he submitted an application for the San Antonio Parks and Recreation Department's Commercial Tree Planting Challenge -- and UTSA won 50 trees, which were planted last fall and this month at the 1604 Campus.
---
Today's headlines
Article tools
---
"When the trees mature, there will be a great color -- UTSA orange -- in the fall near the Sam Barshop Boulevard entrance and along UTSA Boulevard toward Babcock Road," said Nuckels. "In the future, if the trees work out -- and they should since they are Hill Country natives -- Facilities Services will apply for additional trees to plant in other areas around the campuses."
The goal of the challenge program is to increase the tree canopy over the city and to provide more streetside greenery. Along the way, each project brings people together to assume more active roles in their neighborhood and working environments. Business and neighborhood groups apply for trees each year with the stipulations that they must provide volunteer sweat equity to plant the trees, maintain them for at least two years and submit a report at project completion.
Nuckels said the impetus for his application was the sameness of the pale evergreen colors seen on campus during the winter. "The majority of our native trees on campus do not change colors," he said. "I thought applying for trees in this program would give us a chance to have trees on campus that changed colors with the seasons. I wanted to help modify this campus to where students can feel great about their natural surroundings and build a better sense of place."
He worked with the groundskeeping staff and others in the Facilities group to select the planting areas, pick the type of tree from the city's list, and lay out planting and maintenance plans.
Program guidelines stipulate that 25 trees go to winning submissions. UTSA won the challenge, and 25 bigtooth maples were delivered and planted last fall. But, Nuckels was surprised last month with the news from a city staffer that 25 extra trees were on hand and available to UTSA. The additional maples were gladly accepted and planted this month.
"The areas selected were relatively devoid of trees but heavily used by students," said Nuckels. "When mature, the trees will help improve the look and feel of those parts of campus. If you go to the two planting areas, you already can see and feel a difference."