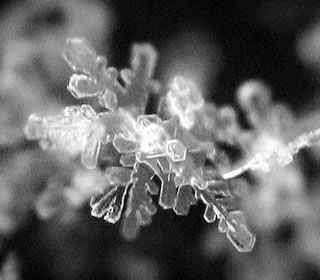 UTSA weather updates: What you need to know
By Tim Brownlee
Assistant Director of Public Affairs
(Jan. 27, 2009)--As the San Antonio area experiences winter weather, there is always the possibility that regular UTSA operations may be affected. Following is information that UTSA students, faculty and staff need to know about inclement weather.
A primary resource for UTSA weather-related updates is (210) 458-SNOW (7669).
---
Today's headlines
Article tools
---
At any time of the year, whether there is ice or excessive rain, there are three methods that UTSA administration communicates the operational status of the university:
458-SNOW
UTSA Web sites: UTSA home page, UTSA Today
Local media
UTSA faculty, staff and students can call 458-SNOW at any time for information about the Tri-Campus community regarding the status of classes and employee work schedules. The line accepts up to 138 calls at a time, but if there is a busy signal, please be patient and try again.
The UTSA Office of University Communications will update two Web sites (the UTSA home page and UTSA Today) with information on the university's status.
Although University Communications attempts to distribute current information to all media outlets in San Antonio, the process can be difficult because of the large number of phone calls received by newspapers and radio and television stations during periods of severe weather.
UTSA makes every attempt to provide all media outlets correct information in a timely manner, but the university initially communicates with both WOAI Television and WOAI Radio.
------------------------------
Frequently Asked Questions: UTSA weather closures
How early does UTSA determine whether or not to close the campuses because of adverse weather?
When adverse weather occurs during the night, the UTSA Police Department advises the vice president for business affairs concerning weather conditions. The vice president consults with the provost and vice president for student affairs before advising the president, who determines whether or not to close the university. Officials attempt to make a decision about whether or not to close the campuses by approximately 5 a.m. Subsequently, staff members in University Communications work to change the message on 458-SNOW, update the Web sites and contact media outlets.
At other universities, they continue to have classes regardless of snow or ice. What criteria are used to close UTSA?
UTSA is committed to making the best decision relevant to the safety of all students, faculty and staff. In San Antonio, even a small amount of ice might create an unsafe situation, considering that students and employees travel to the university from a variety of distances. Sometimes, weather in the Hill Country may not be reflective of conditions in southern portions of Bexar County.
What if my situation appears dangerous, and I cannot determine whether or not UTSA is closed?
Individuals are encouraged to make a prudent decision about traveling to campus in consideration of the weather in their area.
If UTSA closes, where do I go for information if I have questions regarding the Define information system, administrative leave, timesheets and comp time?
If the decision is made to close UTSA, the Human Resources Web site will have information posted on these topics.