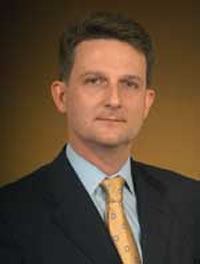 Entrepreneur Paul Castella, M.B.A. '05
UTSA hosts tech entrepreneurship boot camp
By Wendy Frost
Director of Communications, College of Business
(Feb. 13, 2009)--The UTSA Center for Innovation and Technology Entrepreneurship (CITE) will host the Jackson Walker Technology Entrepreneurship Boot Camp from 8:30 a.m. to 5 p.m., Friday, Feb. 20 in the Business Building University Room (2.06.04) at the UTSA 1604 Campus.
---
Today's headlines
Article tools
---
Paul Castella, M.B.A. '05, co-founder of Xenotope Diagnostics, CardioSpectra, Aeon Bioscience and ViroXis Corporation, will present the keynote address at 9:15 a.m. As president and CFO of CardioSpectra, his company was among the first group of recipients of funding from the State of Texas Emerging Technology Fund. The company was acquired by Volcano Corp. in December 2007 for approximately $63 million.
The daylong boot camp will feature expert presentations on fundamental entrepreneurship skills including opportunity identification, business plan basics, introduction to business law and funding a technology start-up.
Scheduled speakers include Stephanie Chandler, Jackson Walker; Sean Crandell, Jackson Walker; Jill Dickman, SBDC Technology Center; Cory Hallam, director of CITE and assistant vice president for commercialization alliances and innovation; Anita Leffel, UTSA College of Business faculty member, Mark Miller, Jackson Walker; Lisa Owen, Regnier Valdez; Jim Poage, San Antonio Technology Accelerator Initiative; and Cat Wilson, Regnier Valdez.
CITE is an interdisciplinary center in the UTSA College of Business and the College of Engineering. The center focuses on fostering the growth of entrepreneurs and new technology-based ventures through a process of education, experiences, resources and support.
The Entrepreneurship Boot Camp is co-sponsored by the UTSA College of Business, UTSA College of Engineering, UTSA Institute for Economic Development, UTSA Office of the Vice President for Research and the San Antonio Technology Accelerator Initiative.
Registration is free for UTSA faculty, students and staff as well as faculty and students from others institutions. The boot camp is $95 for the general public. Payment can be made by cash or check the day of the event.
For more information, call (210) 458-5782 or register online. For details on the boot camp, visit the CITE Web site.