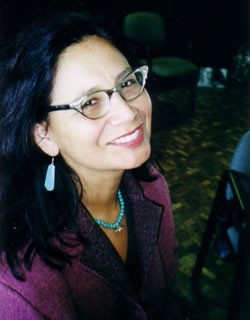 Barbara Renaud Gonzalez
Creative writing series hosts award-winning writer
By Kris Rodriguez
Public Affairs Specialist
(Feb. 18, 2009)--The UTSA Department of English Creative Writing Program will host award-winning writer Barbara Renaud Gonzalez as part of the Creative Writing Reading Series. Free and open to the public, the writer will read from her work at 7:30 p.m., Friday, Feb. 20 in the John Peace Library Building Assembly Room (4.03.08) on the UTSA 1604 Campus.
---
Today's headlines
Article tools
---
Her novel "Golondrina, Why Did You Leave Me?" will be published in April as the first Chicana novel to be published by the University of Texas Press. Another novel in the works, "Willie and the Flood/Su Voto es Su Voz," is a children's book on the life of Southwest Voter Registration and Education Project founder Willie Velasquez.
Gonzalez' essays and articles have appeared in The Nation, The Progressive, Ms., The Los Angeles Times and many others. Her commentaries have aired on National Public Radio's "Morning Edition" and "Latino USA." She was the first Chicana to be a regular monthly columnist on the San Antonio Express-News opinion page. In 2000, she received the Inter-American Press Association Opinion Prize for her "columns that inspire community debate."
Gonzalez received a master's degree in social work from the University of Michigan and a bachelor's degree in social work from the University of Texas-Pan American.
Renaud Gonzalez is a Macondo Foundation Fellow. The UTSA reading is sponsored by the foundation, which works with dedicated and compassionate writers who view their work and talents as part of a larger task of community-building and non-violent social change. Learn more about writing workshops, grants and residencies at the Macondo Foundation Web site.
------------------------------
Established in 1983, the UTSA Creative Writing Reading Series hosts public readings by poets and fiction writers who visit classes and meet with UTSA students to discuss their writing. Visiting writers have included Mary Oliver, Ernest Gaines, Tobias Wolff, Denise Levertov, Alberto Rios, Pat Mora, Diane Wakoski, Edward Hirsch and many others.