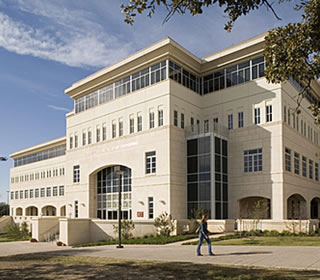 Biotechnology, Sciences and Engineering Building, UTSA 1604 Campus
Special events: UTSA Engineers Week, Feb. 16-20
By Christi Fish
Public Affairs Specialist
(Feb. 16, 2009)--The UTSA College of Engineering (COE) celebrates the applied sciences with the annual Engineers Week (EWeek) Feb. 16-20 on the 1604 Campus. Highlights of the week will include a career expo, opportunities to network and presentations by XBOX development team member John Collins '08 and entrepreneur David Spencer. See the schedule of events below.
---
Today's headlines
Article tools
---
Founded in 1951 by the National Society of Professional Engineers and funded by the National Engineers Week Foundation, National Engineers Week is an annual opportunity for students to learn about careers in engineering and technology. EWeek also promotes understanding of engineers' contributions internationally.
The UTSA College of Engineering is home to nearly 2,200 undergraduate and graduate students pursuing careers in biomedical engineering, civil and environmental engineering, computer and electrical engineering, mechanical engineering and the Air Force ROTC. In 2008, COE was ranked 10th in the nation for the number of undergraduate degrees awarded to Hispanics, according to Hispanic Outlook in Higher Education.
For more information, call (210) 458-4490.
------------------------------
UTSA EWeek 2009 events
-- Monday, Feb. 16: Ice Cream Social
Engineering Building student lounge (second floor), 2 p.m.
Networking with engineering students, faculty, staff and alumni
-- Tuesday, Feb. 17: Video Conference with Alumnus John Collins
Biotechnology, Sciences and Engineering Building Room 2.102, 1-2 p.m.
John Collins, a UTSA electrical and computer-engineering alumnus, is part of the Microsoft XBOX 360 development and testing team. He will conduct a videoconference with students and discuss his experiences as a UTSA engineering student, his life post-graduation and his career with Microsoft. The event will include free pizza and soft drinks. The first 50 attendees will receive free COE backpacks and pens.
-- Wednesday, Feb. 18: Seminar with David Spencer
Biotechnology, Sciences and Engineering Building Room 2.102, 1-2 p.m.
David Spencer is the founder of Mandelbrot Ventures, a San Antonio investment firm. He is the recipient of the 2007 UTSA Tom C. Frost Award, which honors outstanding citizens who have provided exceptional leadership to important business and community endeavors. As part of EWeek, Spencer will address the COE students. A University of Texas at Austin alumnus, Spencer and his wife, UTSA alumna Jennifer Spencer, funded a distinguished chair for the dean of the UTSA College of Engineering with a $1 million gift. Spencer's entrepreneurial career took off in 1996 when he co-founded OnBoard Software Inc. In 2005, Gov. Rick Perry appointed Spencer inaugural chair of the Emerging Technology Fund advisory committee, a $200 million investment and company formation fund.
-- Wednesday, Feb. 18: Engineering Career Expo
Biotechnology, Sciences and Engineering Building atrium, 2-5 p.m.
COE students and alumni can network with companies and organizations from across the nation representing a range of engineering fields. For résumé submittal and attire guidelines at the expo, students should contact Audrey Magnuson, Career Center (210) 458-6709.
-- Wednesday, Feb. 18: Student Organizations Expo
Biotechology, Sciences and Engineering Building Kleberg Commons, 2-5 p.m.
Weather permitting, the Student Organizations Expo will run concurrently with the Engineering Career Expo to introduce students to UTSA engineering-focused social and service organizations.