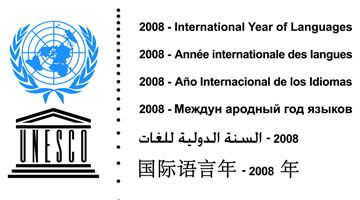 Feb. 13 symposium: Multilingual education policy
By Kris Rodriguez
Public Affairs Specialist
(Feb. 13, 2009)--The University of Texas at San Antonio and the World Affairs Council of San Antonio will host an International Year of Languages (IYL) symposium at 6 p.m., Friday, Feb. 13 in the Buena Vista Theater (1.326) at the UTSA Downtown Campus. Free and open to the public, the symposium will include a reception, an IYL art exhibit opening and two presentations on multilingual education policy.
---
Today's headlines
Article tools
---
Nancy Hornberger, professor of education and director of educational linguistics at University of Pennsylvania, will speak on "Multilingual Education Policy and Practice: Ten Certainties (Grounded in Indigenous Experience)."
Josue Gonzales, professor of educational leadership and policy studies at Arizona State University, will discuss "A Three-Language World Poses New Challenges for Language Policies and Language Teaching."
Hornberger will discuss how multilingual education in Bolivia was a doorway to peaceful coexistence of indigenous and other ethnic groups. Gonzales will address the new challenges faced by American schools because of globalization and the need for new thinking about the role of language in education.
The symposium is the final event in a yearlong celebration at UTSA that has included presentations and film screenings recognizing the International Year of Languages. In February 2008, the United Nations General Assembly proclaimed the International Year of Languages and asked the United Nations Educational, Scientific and Cultural Organization (UNESCO) to take the lead role. In celebration of IYL, activities have been organized worldwide to raise awareness of relationships between global linguistic diversity and cultural heritage.
UTSA symposium sponsors are Office of the President, Provost Core Values Initiative, College of Education and Human Development, Department of Bicultural-Bilingual Studies, Department of English, Department of Interdisciplinary Learning and Teaching, and Department of Modern Languages and Literatures.
For more information, contact Francis Hult, assistant professor of applied linguistics in the Department of Bicultural-Bilingual Studies, at (210) 458-2024.