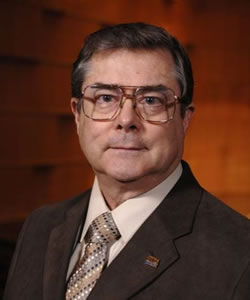 David Sebald
Faculty Close-Up: Associate Professor David Sebald prefers amateur music with feeling over uninspired professional
By Cindy Brockwell
Special Projects Writer
(Feb. 3, 2009)--Associate Professor David Sebald has seen many changes during his 19 years at UTSA. He has worked under the leadership of three UTSA presidents. The Downtown Campus was only a dream when he arrived. His music students have competed with the sound of jackhammers and bulldozers as new buildings sprang up around the Arts Building.
---
Today's headlines
Article tools
---
An associate professor and director of music technology in the College of Liberal and Fine Arts, Sebald joined the UTSA faculty in 1989. He already had gained a reputation as an advocate of teaching through computer technology, and as a technology junkie -- specifically in music and media technology.
"I was trained as a classical musician, and the first time I heard Willie Nelson sing 30 years ago, I thought, 'This must be a joke,'" he said.
Since then, Sebald has changed his mind. "Music is about communication of feeling, and Willie Nelson is a master communicator," he said.
For that reason, too, Sebald says he would rather listen to an amateur high school band that tries to play with feeling than to a professional orchestra with no soul.
Sebald, 62, grew up in Alpena, Mich., on Lake Huron's Thunder Bay. He comes from five generations of teachers, and now his daughter is continuing the family tradition. As a budding clarinetist, his first professional job was in the Alpena City Band. The paycheck wasn't large, but it provided the opportunity to travel with the band. It made him feel like a performing musician.
But in the family tradition, teaching became his true passion. Sebald earned a Ph.D. in music education from Michigan State University and taught music in Michigan public schools before moving south to Durango, Colo. From there, his teaching jobs took him to Colorado Springs, Fort Hays State University in Kansas, and to Corpus Christi State University (now Texas A&M University Corpus Christi).
He had been moving west and south in search of warmer climates. When Sebald arrived in Texas 25 years ago, he finally found a place warm enough to call home.
Sebald credits Bob Moog, the inventor of the Moog synthesizer, for his own immersion into the field of music technology. "I remember my reaction in 1970 when I heard 'Switched On Bach,' the first million-selling classical album. Here was this exhilarating classical music coming out of an electronic machine," he said. "I later learned it was a Moog Synthesizer, and I was hooked."
Since then, the Moog synthesizer has been replaced by more powerful equipment and software. That's where Sebald's research comes in. He enjoys exposing others to contemporary music technology through educational product development and multimedia, and says, "I love teaching creativity with creativity."
So, in the early 1990s, he formed a production and consulting company, Advanced Instructional Media, to produce instructional CD-ROMs and videos.
Under his leadership, UTSA's music technology program has provided multimedia course materials via the Internet for more than 15 years. He calls his current instructional delivery technology the TIME Machine (an acronym for Train, Inform, Motivate and Entertain). Over the last decade, Sebald has traveled the country demonstrating the TIME Machine's technology at computer, music and distance learning conferences.
This fall, students at Brackenridge and Jefferson high schools were offered a new digital music technology course developed by Sebald and largely delivered through his TIME Machine. More San Antonio ISD high schools will be added next year. Other school districts from Dallas to San Angelo also are looking at his program for their music students.
Sebald said that there is tremendous interest in music technology today. At UTSA, he gets nearly a call a day from students interested in the music technology certificate program.
"They hope to become music producers or engineers, but too often they don't know music," said Sebald. "It looks easy in the movies, just sliding all those controls and getting a great sound that communicates feeling. I tell them they have to be musicians first."
Others, he said, see someone like Gene Simmons of the rock group KISS and think that being a musician is about the trappings. Sebald cautions them that successful musicians work really, really hard. And, his students do.
"I absolutely love the work I'm doing here," he said. "Our students are so very appreciative of the opportunity to learn, and it makes teaching a real joy."
Sebald concentrates primarily on teaching and educational product development these days, but he is still a performing musician. He currently performs on a WX-7 MIDI Wind Controller for schools and conferences. He will be a featured performer at the Texas Music Educators Association convention in San Antonio in February.
-------------------------------
Fun Facts: David Sebald's favorites
Movie: Any educational or uplifting movie, particularly in IMAX
Music: Avidly takes in everything
Leisure reading: Rarely time for anything but technical manuals, always working on product development
Pastime outside the classroom: Enjoys walking the wooded trails near his home
High school friends would remember him as: The nerdy clarinet guy