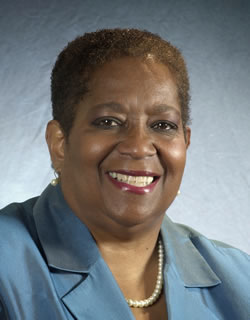 Linda Tillman
UTSA COEHD Dean's Lecture Series is Feb. 19
By Kris Rodriguez
Public Affairs Specialist
(Feb. 18, 2009)--The UTSA College of Education and Human Development Dean's Lecture Series will present Linda Tillman, professor of educational leadership at the University of North Carolina at Chapel Hill, speaking on "The Public University: Towards Culturally and Community Informed Teaching, Research and Service." Free and open to the public, the lecture is at 5:30 p.m., Thursday, Feb. 19 in the University Center Ballroom (1.106) on the 1604 Campus.
The event is part of the Provost's Core Values Initiative, which funds programming that fosters the UTSA core values of integrity, excellence, inclusiveness, respect, collaboration and innovation.
---
Today's headlines
Article tools
---
Tillman's research focuses on leadership theory, education of African-American students, use of racially and culturally sensitive qualitative research approaches, and mentoring African-American teachers and administrators.
At the University of North Carolina at Chapel Hill, Tillman is associate director of graduate student development and Jackson Scholar mentor in the University Council for Educational Administration. Additionally, she serves as vice president for division administration, organization and leadership for the American Education Research Association. In 2004, she earned the Scholars of Color in Education Early Career Contribution Award from the American Educational Research Association.
Tillman received both a doctoral degree in educational administration and a bachelor's degree in secondary education from The Ohio State University. She earned a master's degree in educational administration from University of Dayton.
For more information, call (210) 458-4370.
------------------------------
The UTSA College of Education and Human Development is the leading provider of educators in the San Antonio area and one of the largest in Texas. It is ranked third in the United States as a producer of teacher education degrees for Hispanics. COEHD graduates are known for their strong preparation; success with state licensing exams puts UTSA in the top tier of institutional performance on accountability measures in Texas. COEHD offers six undergraduate, seven master's, and four doctoral degrees.