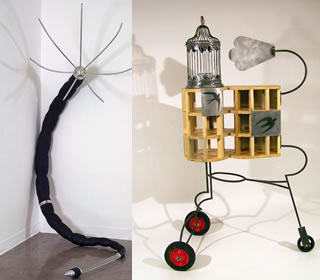 Top photo (from left): "Leech" by Donald Henson (turned wood,
machined aluminum, wrinkled finish, cast resin), 2006, and "Keeping
Madam Satisfied" by Andries Fourie (mixed media, found objects), 2009
Bottom photo: "The Tipsy Greenhorn" by Dylan Collins (painted steel,
cast rubber), 2006 (Photos courtesy of the artists)
UTSA art exhibit compares machines, humans
(March 5, 2009)--The UTSA Department of Art and Art History will present the exhibit, "Apparatus," March 5-22 at the UTSA Satellite Space. Free and open to the public, the exhibit features work by Dylan Collins (Morgantown, W.Va.), Andries Fourie (Salem, Ore.) and Donald Henson (Chapel Hill, N.C.), who explore the relation between mechanical systems and the human body's operation.
---
Today's headlines
Article tools
---
>> An opening reception is 6-9 p.m., Thursday, March 5. The exhibit also will be part of First Friday, Southtown's monthly gallery open house, from 6 to 9 p.m., Friday, March 6.
Curated by Scott Sherer, associate professor of art history and director of the UTSA Art Gallery and UTSA Satellite Space, the exhibit looks at the relationships between forms and their functions in the range from the organic to the manufactured to the cultural to the fantastic.
Materials used include forged metal, cast resin and rubber, and mixed-media constructions.
Dylan Collins investigates systems of classification and the internal organization of life forms of humans and animals and artificial machines.
Andries Fourie produces complex objects that reference the cultural dynamics of South Africa. His work incorporates the sculptural and graphic character of a hybrid culture and offers a critique of nostalgia in a postmodern world.
Don Henson engineers forms that synthesize industrial equipment and fragile bodies. His work references both natural forms and simple machines to approach the complexity of science fiction fantasy.
For more information or a private showing, contact Connie Swann, UTSA Satellite Space coordinator, at (210) 458-4391. Call the UTSA Satellite Space at (210) 212-7146.
Gallery hours are noon-6 p.m., Friday-Sunday, or by appointment. The UTSA Satellite Space is in Blue Star Arts Complex Suite 115 at South Alamo and Probandt streets, south of downtown San Antonio.