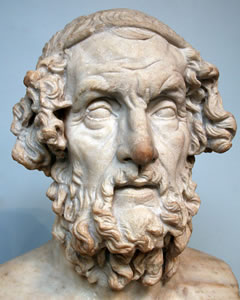 Greek poet Homer (British Museum)
UTSA presents inaugural classics symposium
By Tim Brownlee
Assistant Director of Public Affairs
(March 17, 2009)--The UTSA Department of Philosophy and Classics will host its inaugural classics symposium Friday-Saturday, March 20-21 in the Business Building University Room (2.06.04) on the UTSA 1604 Campus. Free and open to the public, the symposium is centered on the theme "New Directions for Old Poems: The Modern Frontiers of Archaic Greek Poetry." The keynote speaker is Richard P. Martin of Stanford University, who will speak Friday on "Finding Homer in the 21st Century." See the schedule of speakers below.
---
Today's headlines
Article tools
---
Sponsored by the Brackenridge Fund and the UTSA Provost's Core Values Initiative, the two-day symposium will center on the diversity and plurality of interpretive approaches to this ancient material. The event fosters the UTSA core values of integrity, excellence, inclusiveness, respect, collaboration and innovation. Speakers will present papers detailing their research and how their approaches relate to an increasingly complicated range of scholarship.
According to conference organizer, Joel Christensen, UTSA professor of philosophy and classics, the oldest literary corpus in the Western tradition has undergone phenomenal changes in the past few generations in its composition and the way it is interpreted by modern scholars. The publication of new fragments has radically changed conventional views of poets such as Archilochus, Simonides and Sappho. Additionally, literary theories from New Criticism to psychoanalysis and deconstructionism, alongside anthropological concerns such as literacy and the role of performance, have fundamentally altered the understanding of the texts and how they are described.
Professor Richard P. Martin teaches Greek and Latin literature at Stanford. His research focuses on Homeric poetry and how it functioned as a performance art in ancient Greece. His research involves fieldwork in modern Crete, where he interviews people who still perform traditional oral epics. His analysis of audio recordings of people singing these poems led him to find a number of similarities with ancient Greek epic poetry. Additionally, he has studied resemblances between ancient oral poetry and modern rap.
Born and raised in Boston, Martin studied classics as well as Medieval and modern Irish language and literature at Harvard University, where he received his B.A. in classics and Celtic literature and an M.A. and Ph.D. in classical philology. Before going to Stanford in 2000, he taught classics for 18 years at Princeton University. He was the chair of the classics department at Stanford from 2002 to 2008.
>> Coffee and snacks will be served at the symposium Friday, March 20, and breakfast and lunch will be available Saturday, March 21. For more information, e-mail conference organizer Joel Christensen.
------------------------------
UTSA Classics Symposium: New Directions for Old Poems: The Modern Frontiers of Archaic Greek Poetry
Session 1: Friday, March 20, 3:30-7 p.m.
3:30-4:15 p.m.
Donald Lavigne, Texas Tech University, "Genre In Archaic Poetry"
4:15-5 p.m.
Allen Romano, Florida State University, "Lyric Etiology"
5 p.m., Keynote address:
Richard Martin, Stanford University, "Finding Homer in the 21st Century"
Session 2: Saturday, March 21, 9 a.m.-7 p.m.
9-9:40 a.m.
Tom Hawkins, Ohio State University, "Hipponactean Parody and the Flaccid Phallus"
9:40-10:20 a.m.
William Tortorelli, Northwestern University, "Archaic Poetry and Metapoetics"
10:20-11 a.m.
Brett Wisniewski, New York University, "Apotropaic Imagery and Alkman: Extending Ritual Contexts"
11:20 a.m.-noon
Mark Alonge, Boston University, "Theognis: Quotation and Composition"
12-12:40 p.m.
Sean Signore, New York University, "East Meets West: Points of Contact in Archaic Greek Poetry and the Ancient Chinese Novel"
12:40-1:30 p.m.
Erwin Cook, Trinity University, "The Odyssey in Eleusis"
2:40-3:20 p.m.
David Smith, San Francisco State University, "The Scholia to Pindar's Sicilian Odes at the Crossroads of Oral History and New Historicism"
3:20-4 p.m.
Chris Eckerman, University of Oregon, "Landscape and Poetics in Pindar's Odes"
4-5 p.m.
Casey Dué, University of Houston, "The Poetics of Ambush: Agamemnon's Densely-Packed Sorrow in Iliad 10"
5:30-6:45 p.m.
Richard Martin, Stanford University, "What the Gods Want: Theological Poetics in Homer"