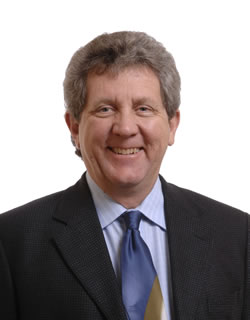 Bruce Howard
UTSA Alumni Connections Lunch is March 12
By Marcia Mattingly
Communications Consultant, Office of Alumni Programs
(March 2, 2009)--Bruce Howard, director of operations and development for accounting firm Fisher, Herbst and Kemble, is the speaker at the next UTSA Alumni Connections Lunch from 11:30 a.m. to 1 p.m., Thursday, March 12 in the University Center Ballroom (1.104) on the 1604 Campus. Howard will speak on "Me, Inc. -- 10 Ways to Increase Your Personal Brand Value."
---
Today's headlines
Article tools
---
Each year companies spend millions of dollars establishing their brands in the marketplace. A successful brand builds loyalty, reliability and credibility. At the luncheon, learn 10 easy steps toward increasing your personal brand value. Additionally, participants can meet HR professionals from top companies that will be hosting tables.
Before joining Fisher, Herbst and Kemble, Howard served as associate director of employer relations for the UTSA Career Center, where he led the advancement of job identification and expansion of employer relationships for UTSA's students and alumni. He serves on many workforce and economic development boards, committees and organizations in San Antonio, where he pursues his passion for helping people advance in their careers.
Luncheon tickets are $20 for UTSA Alumni Association members and UTSA students, and $25 for non-members. Parking will be available in the south parking garage adjacent to the University Center.
>> Download the registration form or pay by credit card at the UTSA Alumni Web site, or contact the UTSA Office of Alumni Programs at (210) 458-4133.