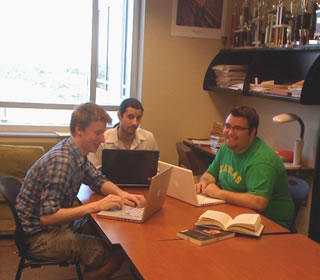 From left, Andy Montee, Philip DiPiazza and Chris Thomas prepare
for upcoming debate tournaments
UTSA debaters will go to nationals in KC
By Skip Eno
Senior Lecturer, Department of Communication
(March 11, 2009)--After a grueling weekend of debate against the best teams in a region including Texas, Louisiana, Oklahoma, Kansas and Missouri, two UTSA debaters qualified for participation in the prestigious National Debate Tournament (NDT) March 26-April 2 in Kansas City.
---
Today's headlines
Article tools
---
Christopher Thomas, a junior transfer student from the University of Kansas, and Andy Montee, a junior transfer from Kansas City (Kansas) Community College, won five of eight rounds of debate at the NDT District 3 tournament in Kansas City.
Teams must qualify to compete with a few teams wining first-round bids (or invitations). Those not receiving a first-round bid must debate their way into the NDT via district tournaments, much like conference tournaments in collegiate basketball. The next rank of teams (or second-round bids) is chosen by the NDT committee, much like "bubble" teams in NCAA basketball (or teams in the running for a tournament).
UTSA's last appearance at the NDT was in 2007. That team, composed of Matt Reichle (now the debate coach at San Antonio's Reagan High School) and Philip DiPiazza (now assistant debate coach at UTSA). Reichle and DiPiazza made their way into the competition through the second-round route.
On top of qualifying to debate in "the dance," Thomas received the fourth speaker honor out of a field of 44 excellent debaters. All of the Roadrunner debaters are enthusiastic and inspired by Montee and Thomas. The next tournament for the debating duo will be the Cross Examination Debate Association National Championship, hosted by Idaho State University in Pocatello March 18-25. After that, Thomas and Montee will advance to the NDT at UT Austin.