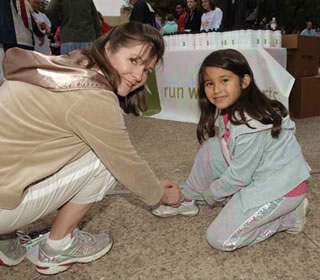 UTSA Diploma Dash 2009
(Photos by Mark McClendon)
UTSA Diploma Dash draws record 1,070 runners
By Omar Hernandez
Public Affairs Specialist
(March 3, 2009)--A record 1,070 runners participated in the 25th annual UTSA Alumni Diploma Dash 5K San Antonio City Championship Race and Fitness Walk, conducted Feb. 21 at the UTSA 1604 Campus. The race benefits the UTSA Alumni Scholarship Fund.
---
Today's headlines
Article tools
---
UTSA alumni, faculty, staff, students, families and participants from throughout south-central Texas sped through campus in what turned out to be a great morning for exercise.
Kibet Cherop took first place in the men's category and UTSA alumna Liza Hunter-Galvan '93 '05 led the women.
"I love coming out here to run on the roads that brought me to the Olympics," said Hunter-Galvan. "It brings back a lot of memories -- in fact the course we ran today is the warm-up we used to do before we did workouts."
Top Masters runners were Victor Viesca and Roberta Varela. Joseph Barber won in the Clydesdale division and Rhiannon House for the Filly. Top students were Chris Layman and Hope Jimenez. New this year, the Wheelchair category winners were Shane Parsons and Clemon Miller Jr.
A special guest joined the Diploma Dash excitement this year -- KABB morning news anchor and UTSA alumna Monica Taylor '98 was on hand as the Diploma Dash Alumni Ambassador. Taylor spent much of the morning mingling with families and taking pictures with star-struck children.
"I am so thankful I got my education here and it's great to know that other people are going to get the opportunity to attend a growing university like UTSA," said Taylor. "Not only does Diploma Dash raise funds for scholarships, but it brings the community together and gives them an opportunity to see UTSA."
Taylor said she was thrilled to be included in the 25th anniversary run of the event and admits she promotes UTSA on-air when given the chance.
Major community sponsors for the race were Valero Energy Corp., Pacesetter, H-E-B Grocery Co., Capital Group Companies, Run Wild Sports, San Antonio Federal Credit Union, The Sciano Family, Southwest Business Corporation/Employee Benefits Consulting Group and AccuPrint.
Co-chairs for the event were UTSA Alumni Association board members Doug Campbell and Susan Campbell '89.
For more information, visit the UTSA Office of Alumni Programs Web site or call at (210) 458-4133.