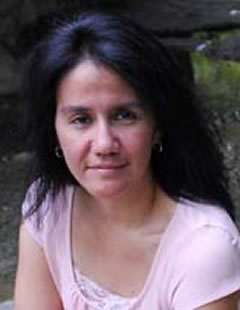 Domino Perez
March 23 talk is on folkloric female figure
By Kris Rodriguez
Public Affairs Specialist
(March 23, 2009)--The UTSA Women's Studies Institute will host Domino Perez, associate professor in the UT Austin Department of English, who will discuss her book, "There Was a Woman: La Llorona from Folklore to Popular Culture," at 5:30 p.m., Monday, March 23 in the John Peace Library Building Assembly Room (4.03.08) on the 1604 Campus. Free and open to the public, the talk is part of UTSA Women's History Month.
---
Today's headlines
Article tools
---
La Llorona, the weeping woman, is an American/Mexican transnational folkloric figure believed to have killed her children to be with a man she loved, who ultimately rejected her.
>> Read a March 19, 2009 San Antonio Express-News story.
Perez is the associate director of the Center for Mexican American Studies at UT Austin. Her research specialties are Chicana literature, American literature, popular culture, cultural studies and film. Her current project is on Mexican American masculinity in literature and film.
Her accomplishments include the 2006 Raymond Dickson Centennial Endowed Teaching Fellowship, the 2006 U.S.-Mexico Relations Borderlands Research Award, the 2005 UT Austin College of Liberal and Fine Arts Dean's Fellowship and the 2004 Harry Ransom Research Center Fellowship.
Women's History Month celebrates women's contributions and causes with educational events from a feminist prospective, promoting a commitment to diversity and aiming to achieve social justice and women's empowerment.
This years theme, "Testimonios: Celebrating Our Stories," provides a month of diverse and interdisciplinary programming focused on the contributions of women and the ways gender informs our lives and society.
For more information, contact Norma Cantu at (210) 458-5134.