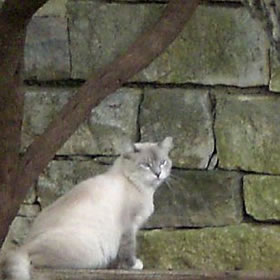 From top, feral cats Bobbie, Harley and Sammie
UTSA community members assist feral cats
By Christi Fish
Public Affairs Specialist
(March 19, 2009)--The rapid development of land in northwest San Antonio has resulted in a challenge tugging at the heartstrings of faculty, students and staff at the UTSA 1604 Campus. A colony of feral cats has claimed the campus as their home.
---
Today's headlines
Article tools
---
To ensure the cats are properly cared for and to help minimize safety concerns, two official campus organizations have been developed: the Roadrunner Cat Coalition (RCC), a faculty and staff volunteer organization, and Protectors of Animal Welfare and Safety (PAWS), comprised of student volunteers.
"The Roadrunner Cat Coalition was formed to develop a safe, symbiotic environment for both our cat population and the UTSA community," said Karen Williams, senior lecturer in the UTSA College of Business and RCC treasurer. "Our members coordinate regular daily feedings to keep the cats well nourished. The RCC has implemented a successful, proven, non-lethal trap-neuter-release (or TNR) program at UTSA, which goes hand-in-hand with the City of San Antonio's program as part of their No-Kill 2012 plan."
>> Read more about the city's No-Kill 2012 plan.
Used widely at other college and university campuses across the country, TNR includes humanely trapping stray and feral cats, evaluating them, vaccinating them and having them neutered or spayed by veterinarians. Upon neutering and spaying, captured kittens and tame cats are placed in good adoptive homes, while undomesticated adult cats are returned to their outdoor homes under the watch of volunteer RCC caregivers.
A variety of colleges and universities including UT Austin, UT Arlington, Texas A&M University, Southern Methodist University, Trinity University and St. Mary's University, have volunteer organizations such as RCC and PAWS to responsibly address their feral cat colonies. Those that have used TNR have found it helpful in reducing the number of feral cats on their campuses. TNR also reduces the frequency of yowling and spraying, behaviors common to breeding cats.
So, how can you help? RCC and PAWS offer these helpful tips:
Refrain from casually leaving food on campus for the cat population. Indiscriminate food placement invites additional problems, attracting skunks, foxes, raccoons, possums, snakes and other wild animals.
Remain alert and keep your distance. Feral cats are undomesticated, and their behavior is sometimes unpredictable.
Refrain from bringing cats on campus or housing cats in dormitories. Both actions are against university policy.
Refrain from taking feral cats home for domestication. This can lead to injury and may cause aggression among existing household pets.
Support RCC or PAWS by volunteering, making a donation or discussing their activities with your friends and colleagues.
Visit the OwnUp SA Web site to learn more about San Antonio's initiative to make the city a no-kill zone for companion pets by 2012.
"Controlling the cat population is a win-win situation for UTSA, but it cannot happen overnight or without careful planning," said UTSA laboratory safety officer Wendy McCoy. "It is of utmost importance that we exercise patience and work together to make the UTSA campus safe for everyone."
------------------------------
Resources
>> To learn more about RCC, e-mail Katherine Pope or Karen Williams, or visit the Roadrunner Cat Coalition Web site.
>> Visit the PAWS Web site or e-mail a PAWS student officer.