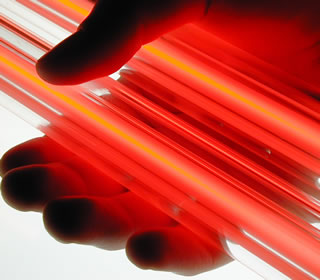 Photo courtesy of
FreeImages.co.uk
UTSA, SwRI partner in national research group
By Christi Fish
Public Affairs Specialist
(March 24, 2009)--UTSA and Southwest Research Institute (SwRI) will join the Government-University-Industry Research Roundtable (GUIRR), an elite sub-unit of the National Academies, the nation's advisers in science, engineering and medicine.
---
Today's headlines
Article tools
---
GUIRR provides a platform for leaders in science and technology from academia, government and business to discuss and take action on national and international scientific matters. This includes such topics as university-industry partnerships, scientific training in academia, the relationship between academia, government and business, and the effects of globalization on U.S. research.
Through roundtable meetings and working groups, GUIRR's university and industry partners provide guidance and suggest possible solutions to streamline policies and procedures unique to the government-university-industry interface. Often documented in advisory reports, this counsel is distributed to key national leaders including the President's staff.
"UTSA aspires to become a top research university, and our membership in GUIRR demonstrates this commitment," said Robert Gracy, UTSA vice president for research. "UTSA's partnership with Southwest Research Institute to join GUIRR will not only strengthen the relationship between our respective institutions, it will allow our institutions to contribute to the development of national policies that will facilitate science and technology research collaborations in the future."
"As a contract research and development organization serving multiple industries and government clients, SwRI strives to apply scientific discoveries and new technologies in innovative ways," said Walter Downing, M.B.A. '86, executive vice president of Southwest Research Institute. "Teaming with UTSA as GUIRR university-industry partners gives us a unique opportunity to participate in, learn from and contribute to the leading research collaborations in the nation."
James Casey, director of the UTSA Office of Contracts and Industrial Agreements, was instrumental in encouraging both UTSA and SwRI to join GUIRR. An active participant in GUIRR and co-chair of its International Research Collaboration working group, Casey said, "Both UTSA and Southwest Research Institute are very deserving of membership in GUIRR. Both have a clear commitment to advancing society through research, and both will serve as active participants in GUIRR's collaborative process."
GUIRR's member roster reads like a who's who of research, offering both UTSA and SwRI access to top research universities, industry leaders and federal officials. UTSA and SwRI are GUIRR's 17th university-industry pair.
They join the University of Texas at Austin, previously GUIRR's only member from Texas. The GUIRR partners are:
Industry Partners
Battelle
The Boeing Co.
Corning Inc.
General Electric Co.
Hewlett-Packard Co.
IBM T.J. Watson Research Center
Intel Corp.
Deere & Co.
Lockheed Martin Corp.
Mars Inc.
Northrop Grumman Corp.
Northrop Grumman Electronic Systems
Pacific Northwest National Lab
Raytheon Integrated Defense Systems
Semiconductor Research Corp.
Southwest Research Institute
Telos Corp.
University Partners
The Ohio State University
Georgia Institute of Technology
Pennsylvania State University
University of Wisconsin, Madison
University of California, Los Angeles
Stanford University
University of California, Berkeley
Iowa State University
University of Maryland
University of California, Davis
California Institute of Technology
Massachusetts Institute of Technology
Washington State University
University of Massachusetts
University of Texas at Austin
UTSA
George Washington University
>> To learn more about research in San Antonio, contact Robert Gracy, UTSA, at (210) 458-4341 or Walter Downing, Southwest Research Institute, at (210) 522-3186.
------------------------------
The University of Texas at San Antonio is one of the fastest growing higher education institutions in Texas and the second largest of nine academic universities and six health institutions in the UT System. As a multicultural institution of access and excellence, UTSA aims to be a premier public research university providing access to educational excellence and preparing citizen leaders for the global environment.
UTSA serves more than 28,400 students in 64 bachelor's, 47 master's and 21 doctoral degree programs in the colleges of Architecture, Business, Education and Human Development, Engineering, Honors, Liberal and Fine Arts, Public Policy, Sciences and Graduate School. Founded in 1969, UTSA is an intellectual and creative resource center and a socioeconomic development catalyst for Texas and beyond.
Southwest Research Institute is an independent, nonprofit, applied engineering and physical sciences research and development organization using multidisciplinary approaches to problem solving. The institute occupies more than 1,200 acres and provides more than 2 million square feet of laboratories, test facilities, workshops and offices for more than 3,300 employees performing contract work for industry and government clients.