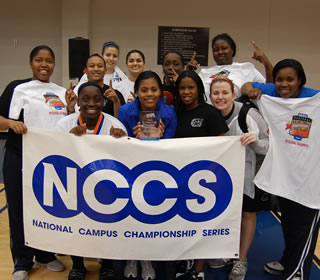 Top photo: UTSA women's intramural basketball, H.B.I.C.
Bottom photo: UTSA men's intramural basketball, Dynasty
UTSA intramural basketball wins regional titles
By Amy Dalrymple
Assistant Director of Marketing and Communications, Campus Recreation
(March 27, 2009)--The UTSA Department of Campus Recreation Intramural women's basketball team H.B.I.C. and men's basketball team Dynasty recently clenched the 2009 NIRSA Texas Regional Basketball Championships title. The tournament was hosted by the University of Texas at Arlington.
It is the second title for the men's team, and the first title for the women's team. The victories secure a seed for each team in the 2009 NIRSA National Basketball Championship April 2-5 in Detroit, Mich., during the Men's Final Four.
In the men's division, Dynasty beat the St. Phillips Tigers in the semifinals to reach the championship game against Texas State University's Stacked. H.B.I.C. beat Angelo State Primetime in the semifinals to earn the right to compete in the championship game against UT Arlington's Tha Squad. Both teams were victorious in their championship games, and look forward to competing in the National Intramural Basketball Championship April 2-5.
Matt Brown and Carlos Berrera from Dynasty, were picked for the All Tournament Team and Brown was named Most Valuable Men's Player for the tournament. In the women's division, Ejoma Waurocha and Amora Waurocha received All Tournament Team honors; Ejoma was awarded the Most Valuable Women's Player spot.
>> Read more about the tournament at the NIRSA Web site.