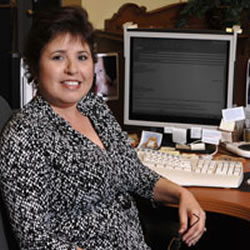 Laura Alonzo Keating
Laura Keating dies Feb. 27 after lengthy illness
(March 3, 2009)--Laura Alonzo Keating, a UTSA senior administrative associate, died Friday, Feb. 27 after a lengthy bout with cancer. She came to UTSA in August 2000 and worked in several offices, most recently the Office of Public Affairs.
---
Today's headlines
Article tools
---
Keating interacted with numerous departments around the university and was known for her friendly smile and professionalism. She was one of the first staff members in the UTSA Institute for Law and Public Affairs and also worked in the Development Office, now the Office of Advancement Services.
A La Coste resident, Keating was born Sept. 4, 1963 in San Antonio. She was a 1981 graduate of Medina Valley High School and a 1983 graduate of St. Philip's College with a degree in business technology for legal secretaries.
Preceding her in death were her father, Ricardo Alonzo and brother, Victor Alonzo Sr. Survivors include her children, Jerry Santiago and Jessica Santiago; grandchildren, Genevie Santiago and Daniel Santiago; mother, Guadalupe Alonzo, all of La Coste; sisters and their spouses, Olga Alonzo of Hondo, Rebecca and Johnny Duncan of Lytle, Mary and Joe Elizondo of Castroville; brothers and their spouses, Richard and Darlene Alonzo, and Gilbert and Ana Maria Alonzo, all of La Coste; and numerous nieces and nephews.
>> Tondre-Guinn Funeral Home in Castroville will be open for visitation 2-8 p.m., Tuesday, March 3, 2009 with a prayer service at 6 p.m. A funeral service will be 10 a.m., Wednesday, March 4 at Tondre-Guinn Funeral Home. Interment will follow at St. Louis Cemetery, Castroville. Friends can sign the guest book at the Tondre-Guinn Funeral Home Web site. For more information, call (830) 931-2221.