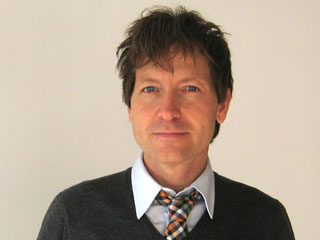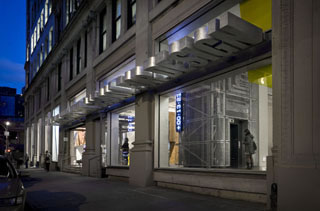 Architect Lyn Rice and a rendering of his villa for the 100 Ordos
project (middle photo) and his Johnson Design Center project in
New York City
UTSA architecture lecture series presents Lyn Rice
By James M. Benavides
Public Affairs Specialist
(March 23, 2009)--The UTSA College of Architecture will host award-winning architect Lyn Rice as part of its ongoing lecture series at 6 p.m., Wednesday, March 25 in the Buena Vista Street Building Aula Canaria (1.328) at the Downtown Campus. The lecture is free and open to the public.
---
Today's headlines
Article tools
---
Rice is the principal of New York-based Lyn Rice Architects, a firm that received a 2009 American Institute of Architects Honor Award, considered among the highest awards in the industry. Lyn Rice Architects was honored for its work on the Sheila C. Johnson Design Center at Parsons the New School for Design, a 32,800 square-foot facility incorporating street-level galleries, auditorium, archive, and orientation and meeting spaces in the heart of New York City.
The New York-based firm is a platform for a range of building, planning, art, exhibition and cultural research projects. Their structures include large-scale museums, academic facilities, office space, retail buildings and artistic installations. The firm also is involved in branding, planning, graphics design, exhibition design and curatorial work.
"Critical architectural thought today cannot be separated from practice," said Rice. "In what Princeton's Sarah Whiting, University of Illinois' Bob Somol and others have termed 'projective practices,' economic, political, bureaucratic, physical and programmatic constraints provide a productive resistance from which they can instigate new architectural discourses."
Rice describes his firm's philosophy as embracing everyday practical constraints in a process that resets the norms and temporarily accepts partial or even seemingly failed solutions. They present every option to provide new insights into projects and how to approach them.
Rice is one of 100 architects invited from around the world to develop a villa for the 100 Ordos Master Plan by Chinese artist Ai Weiwei. By lottery, Rice was assigned a two-story structure on the project's smallest parcel. It minimized the opportunity for landscaping, but Rice approached the unique situation by internalizing the plot's landscape. By bringing three gardens inside the house and incorporating a landscaped roof, he designed a structure in which "hardscape" and landscape are equal.
Lyn Rice Architects is a member of the American Institute of Architects, the United States Green Building Council (LEED credentialing agency) and several industry organizations. He has held faculty positions at Cooper Union, Parsons, Princeton and Columbia universities.
For more information on the lecture series, visit the UTSA College of Architecture Web site.