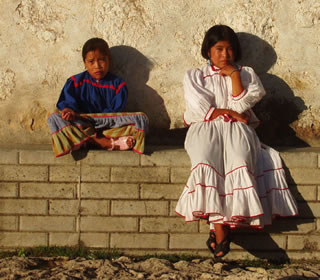 Photo by Sue Ann Pemberton
UTSA photo exhibit spotlights architecture project
By Tim Brownlee
Assistant Director of Public Affairs
(March 20, 2009)--The UTSA Office of the President, the Mexico Center and the College of Architecture will present the photography exhibit "Project + People" from March 20 to April 20 in the UTSA Downtown Gallery in the Durango Building, 501 W. Durango Blvd. Free and open to the public, the exhibition features a series of photographs by Sue Ann Pemberton, UTSA professor of architecture, taken during a College of Architecture project, the Noragachi Field School in Mexico.
---
Today's headlines
Article tools
---
>> An opening reception hosted by UTSA President Ricardo Romo and Dr. Harriett Romo is 5:30-8 p.m., Friday, March 20 at the gallery. The reception is free and open to the public.
Curated by Edward R. Hayes Jr., assistant to the curator of the UTSA Art Collection, the exhibit gives an overview through photographs of a laboratory project in which UTSA architecture and interior design students design and help construct buildings in Noragachi in the Mexican state of Chihuahua. In his first curatorial project, Hayes was put through the paces of organizing all aspects of the exhibition including working with the photographer, scheduling the venue, planning publicity, and designing and setting up the exhibit.
Hayes earned a B.F.A. in 2006 at the School of the Art Institute of Chicago. He is an M.A. student in the UTSA Department of Art and Art History, working with Teresa Eckmann, UTSA assistant professor of art and art history. Hayes is the recipient of the UTSA Mexico Center Carlos and Malu Alvarez Scholarship and is conducting thesis research on contemporary art from Mexico City.
Coordinated by Pemberton, the Noragachi Field School will be conducted for the sixth time this summer. In the indigenous Tarahumaran language, Noragachi means "place that twirls." The city is known for its fierce winds.
"The Noragachi project allows students to put into practice what they have learned about design, passive solar heating, thermal mass, ventilation and building orientation," said Pemberton. "The project in the Sierra Mountains of Mexico offers a challenging opportunity to combine three important aspects of a building project -- the orientation of the land, working with local people and construction."
The program offers students a unique opportunity to gain international, cross-cultural experience while learning how to adapt ancient, earth-architectural methods to modern construction. Students learn from the Tarahumara and the centuries-old adobe, stone buildings and cave dwellings and introduce new systems to the region. They interact daily with the local people who have led the students in the adobe and compacted-earth block construction of a school. Students expand their cultural awareness, self-reliance, resourcefulness and problem solving skills.
Gallery hours are 8 a.m.-5 p.m., Monday-Friday. For more information, call (210) 458-4983.