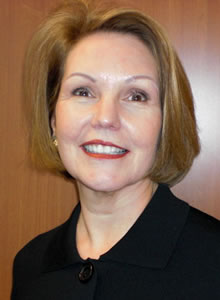 SBDCNet Director Deborah Schueneman
UTSA business dev center awarded $1.5 million
By James M. Benavides
Public Affairs Specialist
(March 16, 2009)--The U.S. Small Business Administration has awarded the South West Texas Border Region Small Business Development Center (SBDC) a five-year contract to host the Small Business Development Center National Information Clearing House (SBDCNet), which services the entire United States and its territories.
---
Today's headlines
Article tools
---
Headquartered at The University of Texas at San Antonio (UTSA), the South West Texas Border Region SBDC will receive $1.5 million in funding over the five years. It is the first time in the history of SBDCNet that an institution has hosted the program for three consecutive terms.
Particularly with the slow economy and lay-offs at many major companies, SBDCNet is an important resource for thousands of people who may turn to entrepreneurship and small business to make a living. SBDCNet is a central hub for business, economic, financial and demographic research.
Using Web-based subscription services and other databases available through the UTSA Library, SBDCNet researchers can collect data on industry trends, geography and demography, customer profiles, competitive company details, regulations, intellectual property, location suitability and more. From any specific address, a ring study analysis can plot suppliers, competitors and consumer trends up to a 90-mile radius.
The current financial crisis has created complicated economic conditions for small business. Lenders often view small businesses and start-ups as risky investments and may be reluctant to provide business loans. With business plans supported by solid research, entrepreneurs are better prepared to approach lenders for startup or venture capital. While demographic and consumer research can be cost prohibitive, SBDCNet can put big business tools in the hands of small businesses through the client's association with an SBDC business adviser.
"Regardless of economic conditions, businesses need information," said SBDCNet Director Deborah Schueneman. "In both good and bad economies, entrepreneurs need research to support their strategic plans."
During FY 2008, SBDCNet completed 4,630 research requests for clients nationwide and nearly 40,000 over the last 10 years. SBDCNet researchers save SBDC advisers an average of seven hours of research per request -- nearly a full business day that could be dedicated to assisting small-business clients.
"As an emerging research university, we have an obligation to stimulate economic development through research and outreach efforts that respond to the needs of the community and nation," said Robert McKinley, UTSA assistant vice president of the Institute for Economic Development.
For more information, visit the SBDCNet Web site or call (210) 458-2460.