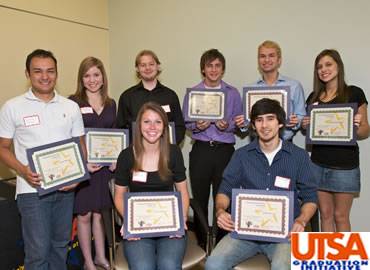 UTSA Outstanding Sophomore Scholarship winners: Sitting are Bonnie
Caulfield (left) and Nick Garcia; standing from left are Jerome Gomez
accepting for Prakash Mammen, Rachel Skarke, Jon Edwards, Derek Smith,
Joshua "Blue" Garcia and Nicole Montalbano
Outstanding Sophomore Scholarships awarded
(March 19, 2009)--Outstanding Sophomore Scholarships were awarded recently to 10 first-year UTSA students as part of the UTSA Graduation Initiative. Each student received a $5,000 scholarship toward tuition and fees for their second year at UTSA. Patricia Glenn, UTSA associate dean for retention and graduation, announced the scholarships at a ceremony including the recipients, friends and families, faculty, administrators and staff.
---
Today's headlines
Article tools
---
Recipients and their majors were Bonnie Caulfield (interdisciplinary studies -- elementary education), Cassidy Chesser (undecided), Jon Edwards (political science), Joshua "Blue" Garcia (biology), Nick Garcia (biology), Prakash Mammen (pre-business -- accounting), Nichole Montalbano (criminal justice), Rachel Skarke (music studies), Derek Smith (kinesiology) and Christina Starkey (mathematics).
The winners were randomly selected from a pool of 77 eligible students. UTSA Student Government Association President Christina Gomez and three student senators participated in the selection process.
Funding for the scholarships was initiated by Lawrence Williams, UTSA vice provost and dean of undergraduate studies, and sponsored by the Office of Undergraduate Studies and the UTSA Graduation Initiative. Since 2007, the initiative has led research on why some students who start at UTSA do not remain to graduate. Reasons include the departure of high-achieving students for other universities. The Outstanding Sophomore Scholarships were established as an incentive for students to remain at UTSA for their second year and to continue on to graduation.