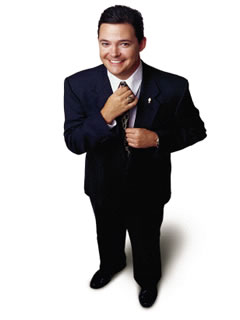 Leadership development expert Clint Swindall
Leadership dev expert speaks March 23 at UTSA
By Tim Brownlee
Assistant Director of Public Affairs
(March 23, 2009)--The UTSA Office of Student Activities will present leadership development expert Clint Swindall speaking on "Tell Me Something Good" at 7 p.m., Monday, March 23 in the University Center Ballroom (1.106) on the UTSA Main Campus. The event is free and open to the public.
---
Today's headlines
Article tools
---
Swindall is president of Verbalocity Inc., a leadership development company devoted to enhancing the leadership experiences of its clients by designing, developing and delivering tailored leadership solutions.
The solutions include leadership enhancement programs, workshops, seminars, professional speaking and general consulting. He travels around the world delivering high-content speeches in an entertaining and inspirational style.
Swindall began his career at SBC Communications Inc. (now AT&T Inc.), after graduating from Southwest Texas State University. As a participant in the company's fast-track management program, he gained hands-on leadership experience in sales, marketing, customer service, finance and technology.
In his first year with the company, he moved a customer service team from last place to first in key measurement areas. At age 27, he managed sales and operations for a multimillion-dollar business unit within Southwestern Bell, the telephone subsidiary of SBC Communications. Before joining Verbalocity, he served as vice president of sales and marketing with North American InTeleCom Inc., then helped build the premier sales consulting firm, Diamond Warkenthien Swindall.
Part of the LeadUTSA Distinguished Lecture Series, the talk is co-sponsored by the College of Education and Human Development, Tomas Rivera Center for Student Success, Campus Activities Board and UTSA Greek Councils.
For more information, contact Barry McKinney at (210) 458-4160.