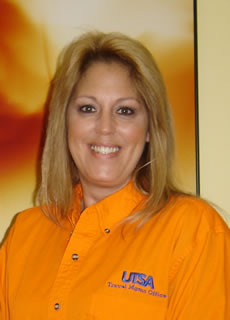 Celine Weidner
---
Today's headlines
Article tools
---
UTSA travel office staff member dies April 21
(April 23, 2009)--Celine Weidner, an accounting clerk in UTSA Disbursements and Travel Services, would jokingly say about herself, "To know me is to love me." But, for those who knew her or were helped by her every day, it was no joke as they witnessed her great patience, kindness and can-do attitude. Born in San Antonio, Texas, March 19, 1960, she died April 21, 2009, leaving behind family, friends and co-workers who will miss her ever-smiling face and infectious laugh.
Weidner came to work at UTSA on April 1, 2006. According to her supervisor, Deby Bailey, "Celine was the first person I hired after I took over the travel office. There were myself and two staff members in travel, and Celine was a perfect fit for the opening we had. One of the big requirements we had was that the new hire needed to have great customer service skills, and it was easy to see during the interview that she fit the bill."
As part of the 2007 UTSA Staff Excellence Awards, the travel office received the Team Spirit Award, and the nominator said about Weidner, "I do believe you can see her smile through the phone."
Weidner always was happy to walk a faculty or staff member through a process they were unsure of. She said that if she could assist one person in learning something, then it would make everyone's job easier. When a senior staff member left the travel office in June 2008, Weidner stepped in to keep things running smoothly. Once the vacant position was filled, she enthusiastically assisted the new staff member, teaching her everything she knew... and then some.
Weidner is survived by her husband, Jonathan, father Joe Aguayo, step-mother Diane, daughter Sheryl, sons Christopher and Stephen, sisters Andy and Monica Aguayo and the loves of her life, grandchildren Joseph and twins Eli and Noah. Weidner's husband is a UTSA student and her sister Monica works in the UTSA Department of Interdisciplinary Learning and Teaching.
A memorial service will be Sunday, April 26 at Sunset North Funeral Home, 910 N. Loop 1604 E. A public viewing will be from 1 to 3 p.m. with the service at 3 p.m. The services were planned for Sunday by the family in order for more UTSA staff members to be able to attend. Celine Weidner would have approved.
Weidner loved giving and receiving flowers, and the family also established a memorial account at Frost Bank. Checks should be made to the order of "Celine Weidner Memorial Fund." To donate to the fund, deliver checks to Deby Bailey, Disbursements and Travel Services, John Peace Library Building Room 4.04.26, UTSA Main Campus. For more information, call (210) 458-5915.