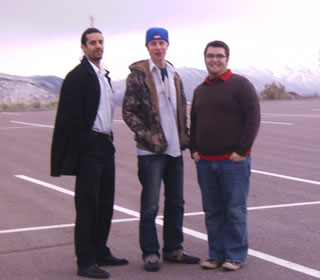 From left, in Pocatello, Idaho, are Assistant Debate Coach Philip
DiPiazza and debaters Andy Montee and Chris Thomas.
UTSA debaters ranked 14th in field of 200
(April 14, 2009)--UTSA debaters finished the 2008-2009 season by attending two national championship tournaments. They competed in the Cross Examination Debate Association (CEDA) championship hosted by Idaho State University in Pocatello (March 19-25) and the National Debate Tournament (NDT) hosted by UT-Austin (March 26-31).
---
Today's headlines
Article tools
---
The CEDA tournament in Idaho yielded many honors for the Roadrunner debaters, Chris Thomas (junior) and Andy Montee (junior). They won six of eight preliminary rounds, defeating teams from UNLV, Miami of Florida, Miami of Ohio, NYU, CUNY and California State.
In elimination rounds, they bested teams from UT-Dallas and Michigan State University. Thomas and Montee advanced to eliminations ceded 14th in a field of more than 200 teams from across the nation. Both were honored with CEDA's All American Debater Award, placing them among the top 25 debaters in the country.
The pairing of Montee and Thomas competed in more than 115 rounds this season, making them one of the top teams in the country. They finished in fifth place at CEDA nationals, losing their last round narrowly (2-1 vote) to the University of Oklahoma, the team that went on to win the national title. They had a rough tournament at the NDT, but distinguished themselves by being invited as a "non-bubble team."
UTSA coaches earned honors this season as well. Philip DiPiazza, assistant debate coach and former championship debater for UTSA, won Best Assistant awards this year at tournaments in Iowa, Dallas, Baylor, University of North Texas, UT-Austin and Towson State in Baltimore. Skip Eno, UTSA director of forensics and senior communication lecturer, was honored at CEDA Nationals with the Don Brownlee Lifetime Achievement Award. Brownlee is a CEDA founder.
As a team, UTSA finished the season 33rd in NDT standings and 34th in CEDA. Next season looks very promising -- all UTSA debaters are returning and several promising recruits are coming in.