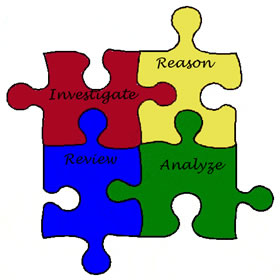 Critical thinking model
Distinguished Faculty Awards presented April 2
By Anne Englert
Assistant Director of Student Relations, UTSA Alumni Programs
(April 3, 2009)--The UTSA Alumni Association and the Student Alumni Association presented April 2 the 2009 Distinguished Faculty Awards to Lilian Cano, lecturer in Spanish (non-tenure track), and Malgorzata Oleszkiewicz-Peralba, associate professor of Latin American studies (tenure track).
The awards were presented by Danny Zimmermann '01, president of the UTSA Alumni Association, and SAA members Korin Lewis and Lisa Saavedra. Each winner received a check for $250 from the Alumni Association in appreciation of their commitment to outstanding teaching and university life.
A lecturer in Spanish in the Department of Modern Languages and Literatures, Cano was nominated by Jim Geiger, a student in Spanish. According to Geiger, Cano positively reinforces student learning, which builds confidence in students regarding their ability to learn. "Dr. Cano encourages students to take bold steps across a linguistic bridge into the Spanish-speaking world," said Geiger
Oleszkiewicz-Peralba teaches courses on Latin American culture and women writers in the Department of Modern Languages and Literatures. Her nominator, Alejandra Osejo, said Peralba fosters critical thinking in and out of the classroom. Last year, Peralba did a presentation at UTSA for the first International Conference on Literature, Culture and Religion in the Hispanic World, which exposed many UTSA students to a new understanding of Latin American countries. Oleszkiewicz-Peralba brings these countries to the students through projects such as a short video she made about the indigenous people of Peru and discussions with students about research projects and cultural organizations. She also has published several articles and books. According to Osejo, the professor is an "encyclopedia of Latin American culture, history and art... and the quality and worth of her works make her the perfect professor for art, culture and literature courses."
Thirteen nominating essays were received from UTSA students. Professors are evaluated on their availability to students and their ability to motivate and stimulate critical thinking.
-------------------------------
For more information, contact Anne Englert at (210) 458-4133.